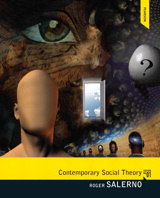 Description
Explores how social theory relates to our everyday experiences
Contemporary Social Theory helps students explore, describe, and discuss how social theory relates to their own experiences, popular culture, and the world in which they live. It advances the view that new theory can be effectively used to assess social and cultural phenomena.
The text identifies the important intellectual movements, categories, and paradigms that have occurred in the study of social theory. It also looks at issues closely related to contemporary social theory, such as: the postmodern condition, globalization, postcolonialism, inequality, gender, race, and human sexuality.
Learning Goals:
Upon completing this book, readers will be able to:
Explore how contemporary social theory relates to their everyday lives

Identify important intellectual movements, categories, and paradigms of the study of social theory

Understand how social and intellectual challenges have resulted in new theories
Table of Contents
Chapter 1: Antecedents to Contemporary Social Theory
Chapter 2: Structuralism and Beyond
Chapter 3: Hermeneutics and Phenomenology
Chapter 4: Poststructuralism and Social Theory
Chapter 5: Exploding the Boundaries of Reason: Postmodernity
Chapter 6: Feminist Social Theory
Chapter 7: Cultural Studies and Cultural Theory
Chapter 8: Postcolonial Theory and Globalization
Chapter 9: Gender and Queer Theory
Chapter 10: Race Theory
Purchase Info ?
With CourseSmart eTextbooks and eResources, you save up to 60% off the price of new print textbooks, and can switch between studying online or offline to suit your needs.
Once you have purchased your eTextbooks and added them to your CourseSmart bookshelf, you can access them anytime, anywhere.
Buy Access
Contemporary Social Theory, CourseSmart eTextbook
Format: Safari Book
$27.99 | ISBN-13: 978-0-205-64621-0