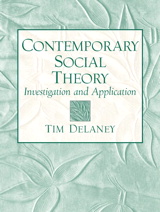 Description
For courses in Contemporary Social Theory.
This text begins with an examination of the major schools of thought of social theory and provides an in-depth analysis of its relevance to society in general. Each of the chapters on the major schools of thought review the basic principles along with a discussion of some of the major theorists, their influences, and their contributions to social theory. Each of these chapters concludes with a section which serves as a review and critical examination of the theory.
Table of Contents
1. Examining Social Theory.

2. Edward Wilson, Sociobiology, and Evolutionary Theory.

3. Functionalism.

4. Conflict Theory.

5. Symbolic Interactionism.

6. Social Exchange Theory: George Homans, Peter Blau and Karen Cook.

7. Ethnomethodology and Harold Garfinkel.

8. Phenomenology: Edmund Husserl, Alfred Schutz, and Peter Berger.

9. Feminist Theory.

10. Critical Theory.

11. Modern and Post-Modern Theory.

12. George Ritzer.

13. Jonathan H. Turner.

14. Applying Social Theory to Future Society.

Bibliography.

Index.