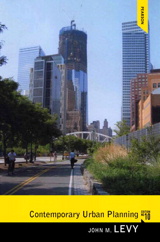 Description
Contemporary Urban Planning 10/e provides students with in-depth coverage of the historic, economic, political, legal, and environmental factors affecting urban planning as well as specific chapters on the various fields of planning. With updated coverage of the Obama administration's response to the present economic downturn, the text addresses the most pressing issues in urban development today - including the subprime mortgage crisis and home foreclosures, federal funding for public transportation, and new standards for "green" buildings. The book also includes new material on the rapidly growing field of planning for natural catastrophes.
Table of Contents
PART 1 THE BACKGROUND AND DEVELOPMENT OF CONTEMPORARY PLANNING
1 An Overview
2 The Urbanization of America
3 The History of Planning: Part I
4 The History of Planning: Part II

PART 2 THE STRUCTURE AND PRACTICE OF CONTEMPORARY PLANNING
5 The Legal Basis of Planning
6 Planning and Politics
7 The Social Issues
8 The Comprehensive Plan
9 The Tools of Land-Use Planning

PART 3 FIELDS OF PLANNING
10 Urban Design
11 Urban Renewal and Community Development
12 Transportation Planning
13 Economic Development Planning
14 Growth Management, Smart Growth, and Sustainable Development
15 Environmental and Energy Planning
16 Planning for Metropolitan Regions

PART 4 LARGER QUESTIONS
17 National Planning in the United States
18 Planning in Other Nations
19 Planning Theory

Purchase Info ?
With CourseSmart eTextbooks and eResources, you save up to 60% off the price of new print textbooks, and can switch between studying online or offline to suit your needs.
Once you have purchased your eTextbooks and added them to your CourseSmart bookshelf, you can access them anytime, anywhere.
Buy Access
Contemporary Urban Planning, CourseSmart eTextbook, 10th Edition
Format: Safari Book
$46.99 | ISBN-13: 978-0-205-85493-6