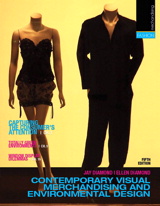 Description
For courses in visual merchandising and display techniques, fashion promotion, and fashion merchandising.
The trusted visual merchandising resource for students and professionals alike, this book introduces every aspect of modern visual merchandising, from point-of-purchase displays to signage. Replete with photos and illustrations, it illuminates the fundamentals of good design, walks through projects from concept to completion, and presents unique strategies for bringing charm, distinction, and excitement to any store. Updated throughout, this edition adds a new chapter on visual merchandising to multicultural consumers, and another on green initiatives and environmentally-aware visual design. It contains new examples and artwork from retailers of all sizes, including an expanded 24-page full-color section.
Table of Contents
1. The Visual Merchandising Concept in a Contemporary Environment
2. Addressing Multicultural Consumer Needs through Visual Merchandising
3. Planning and Developing Visual Presentations
4. Facilities Design: Exteriors, Interiors, and Fixturing
5. Environment Design Direction and Going Green
6. Mannequins and Other Human Forms
7. Materials, Props, and Tools of the Trade
8. Principles of Design
9. Color: Fundamental Concepts and Applications
10. Lighting: Dramatizing the Selling Floor and Display Areas
11. Themes and Setting for Windows and Interiors
12. Energizing the Specialty Boutique
13. Signage: The Tool That Tells A Story
14. Graphics in the Retail Environment
15. Point-of-Purchase Display
16. Display Windows as Setting for "Consumer Theater"
16. Execution of a Visual Display
18. Creating the Overall Concept: From Conception to Completion
19. Promotion's Other Components: Advertising, Special Events, and Publicity
Purchase Info ?
With CourseSmart eTextbooks and eResources, you save up to 60% off the price of new print textbooks, and can switch between studying online or offline to suit your needs.
Once you have purchased your eTextbooks and added them to your CourseSmart bookshelf, you can access them anytime, anywhere.
Buy Access
Contemporary Visual Merchandising, CourseSmart eTextbook, 5th Edition
Format: Safari Book
$55.99 | ISBN-13: 978-0-13-174522-3