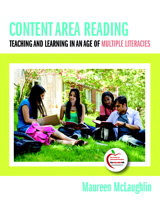 Description
With three full chapters on reading comprehension (reflecting the before, during, after reading approach) and a separate chapter that explores multiple literacies, Content Area Reading: Teaching and Learning in an Age of Multiple Literacies has a wealth of practical strategies for teaching reading, writing, and study skills in the content area classroom.
Table of Contents
CONTENT AREA READING: Teaching and Learning in an Age of Multiple Literacies 1e
CH 1 Teaching in the 21st Century
CH 2 Teaching and Learning in an Age of Multiple Literacies
CH 3 Standards-Based Teaching and High-Stakes Assessments
CH 4 Comprehending Content Area Text
CH 5 Using Comprehension Strategies to Guide Thinking
CH 6 Using Comprehension Strategies to Extend Thinking
CH 7 Content Area Vocabulary
CH 8 Organizing for Teaching and Learning
CH 9 Teaching Culturally and Linguistically Diverse Students
CH 10 Writing in the Content Areas
CH 11 Using Technology in the Content Areas
CH 12 Inquiry: Key to Critical and Creative Thinking in the Content Areas
CH 13 Poetry, Drama, Music, and Art: Alternative Representations of Thinking
CH 14 Course-Based Assessment, Evaluation, and Reporting
CH 15 Meeting the Challenges and Continuing to Learn through Professional
Development
This title is also sold in the various packages listed below. Before purchasing one of these packages, speak with your professor about which one will help you be successful in your course.
Package ISBN-13: 9780135091739
Includes this title packaged with:
What Every Teacher Should Know About No Child Left Behind: A Guide for Professionals, 2nd Edition
Mitchell L. Yell, Erik Drasgow
$145.40 | Add to Cart
Purchase Info
ISBN-10: 0-205-48661-4
ISBN-13: 978-0-205-48661-8
Format: Book
$145.40
We're temporarily out of stock, but order now and we'll send it to you later.
Back Order
Digital Choices
eTextbook ?
With CourseSmart eTextbooks and eResources, you save up to 60% off the price of new print textbooks, and can switch between studying online or offline to suit your needs.
Once you have purchased your eTextbooks and added them to your CourseSmart bookshelf, you can access them anytime, anywhere.