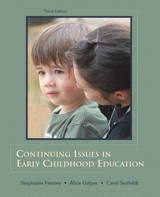 Description
CONTINUING ISSUES IN EARLY CHILD HOOD EDUCATION, third edition, provides advanced students of early childhood education with a broad overview of the critical issues facing the field today as well as the expertise necessary to become a reflective decision maker. The contributed chapters by experts in the field will assist graduate students in gaining a greater understanding of the complexities of the field and offer a basis for constructive action.
Issues continue to be the focus of this book. Some of these issues include: the use of child development research, recruitment and retention of staff, professional development, the importance of program quality and how to evaluate it, reconciling child-friendly, pedagogy and assessment techniques with current demands for accountability and the use of the standards based curriculum. Other urgent issues are the role of families in early care and education, meeting the needs of all young children, and how best to advocate for comprehensive quality programs.
The content of this text is intended to foster discussions, debates, disagreements, and disputes, with the expectation that these will generate questions and help to identify problems. The book is organized into eight parts, each of which addresses a significant question in the field of early care and education. The authors intend to provide veteran early childhood educators with a context for understanding some of the challenges they encounter in their work and novices with insights into some of the issues they may face as they begin to work with young children and families.
Table of Contents
PART I WHO IS RESPONSIBLE FOR THE CARE AND EDUCATION OF YOUNG CHILDREN?
1. Governing American Early Care and Education: Shifting From Government to Governance and From Form to Function
2. The Role of Government in Early Care and Education: An International Perspective
PART II WHAT KINDS OF PROGRAMS DO CHILDREN NEED TO SUPPORT THEIR DEVELOPMENT?
3. Programs for Infants and Toddlers
4. Quality in Programs for Young Children
5. Children's Readiness for Success in School
PART III WHO WILL TEACH YOUNG CHILDREN?
6. The Early Childhood Education Workforce
7. The Professional Development of Teachers of Young Children
8. What Do Early Childhood Educators Need to Know and Do to Work in Urban Settings?
9. Professionalism and Ethics in Early Care and Education
PART IV WHAT IS THE EARLY CHILDHOOD CURRICULUM?
10. Curriculum in Early Childhood Education: Teaching the Whole Child
11. Play Theory and Practice in Contemporary Classrooms
12. Early Learning Standards and Developmentally Appropriate Practice: Contradictory or Compatible
PART V HOW CAN WE MEET THE NEEDS OF ALL YOUNG CHILDREN?
13. Educating Young Children with Developmental Differences: Principles of Inclusive Practice
14. Diversity and Early Childhood Education: Making Room for Everyone
PART VI HOW WILL EARLY CHILDHOOD EDUCATION BE EVALUATED?
15. Assessing Young Children
16. Evaluating Programs for Young Children
PART VII WHAT IS THE ROLE OF FAMILIES IN EARLY CARE AND EDUCATION?
17. Partnerships with Families
PART VIII HOW CAN WE ADVOCATE FOR YOUNG CHILDREN?
18. Advocacy for Young Children-