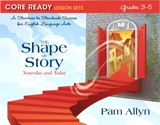 Description
For educators: teachers, administrative leaders, literacy coaches, ELL specialists, special educators, media specialists, reading teachers, and content area teachers
For professors and students in education
For homeschool providers
About the Program:
Core Ready is a dynamic series of books providing educators with critical tools for navigating the Common Core Standards effectively, fluidly, and successfully. In the pages of these books, readers see how to take complex concepts related to the standards and turn them into practical, specific, everyday lessons.
The series is founded on the author's 4 Doors to Core Ready, an easy to use yet strikingly brilliant way to access and organize all of the content within the standards:
The Journey to Meaning: Comprehension and Critique

The Shape of Story: Yesterday and Today

The Road to Knowledge: Information and Research

The Power to Persuade: Opinion and Argument
The foundational book in the series, Core Ready: Teach, Lead, and Inspire Every Student for Literacy Standards Success, provides the cornerstone plan for successfully reaching all students and inspiring them to become Core Ready scholars. The books that follow provide daily lessons that, when taught in total, ensure a standards-aligned year of joyful, effective, research-based literacy curriculum.
Students in The Core Ready Program will:
Receive the highest quality literacy education via outstanding lesson sets combining reading, writing, speaking and listening, and language use--all driving toward the standards.

Meet and exceed the core standards.

Engage with their families and teachers as Core Ready partners.

Make content-area connections for reading, writing, using language, speaking and listening.

Incorporate new media in reading, writing, using language, speaking and listening expertly.

Experience the pleasure, value, and lasting impact of great literature through the highest levels of close reading and in collaborative reading groups.

Navigate complex informational texts.

Critique and analyze texts across all genres.

Master strategies for engaging with complex text to break through from struggle to success.

Use persuasive writing skills to master the craft of argument.

Master the art of writing to marshal evidence for a big idea.

Harness the power of writing to convey ideas about reading.

Come to know themselves as readers, writers, speakers, and listeners through quality performance based assessments.

Become lifelong readers, writers, speakers, and listeners with college and career ready goals.
The Core Ready program offers a groundbreaking, dignified approach to working with ELL students that exposes English Language Learners to rich texts, gives ample opportunities to discuss and argue, and challenges them to write for real purposes. Core Ready offers educators the scaffolding strategies and implementation support to make this a reality.
Core Ready also supports all diverse learners. Special needs students are deeply valued and coached in the Core Ready classroom. The lessons and approach help them to reach and exceed standards. The attention to diverse learners is powerful and profound and will deeply inspire.
About this book:
The Shape of Story: Yesterday and Today is one of the 4 Doors to Core Ready for the standards-serious student and teacher. It is a rich, day-to-day, step-by-step guide for helping all students become core ready. Using the books in The Core Ready Program, readers see how to turn the standards into meaningful instruction and learning.
Enter through this door in the Core Ready program to bring the power of literary narrative with a focus on the importance of theme, character, and story structures from both yesterday's and today's literature to the classroom. Readers see how to turn the standards into meaningful instruction and teaching toward accomplishment of the narrative and archetypal story-centered goals in the standards.
Teachers and students are guided through three rich and dynamic lesson sets that staircase up, giving teachers an opportunity to work together across grade levels to be sure goals are met, each with complete step by step reading and writing lessons that center on the fundamental aspects of story itself as seen in the standards, along with guidance for speaking, listening, and language use:
Grade 3: Tales with a Message: Unlocking and Exploring Folktales
Grade 4: Enduring Themes: Central Message in Traditional Text
Grade 5: Imagined Worlds/Human Themes: Reading and Writing Fantasy
Through these lesson sets, students gain an understanding of the unique structure, craft, and terminology associated with each genre outlined in the Common Core Standards, in this case, the genres of traditional stories, fantasy and folktales. They focus on the ways an author conveys meaning to an audience and learn how these methods vary depending on purpose and genre. And through the experience that is built, students become comfortable and familiar with the technicalities, tools, and elements of storytelling, which in turn builds strong readers, writers, and speakers.
Table of Contents
Grade 3
Tales with a Message: Unlocking and Exploring Folktales and Myths
Grade 4
Enduring Themes: Central Message in Traditional Text
Grade 5
Imagined Worlds/Human Themes: Reading and Writing Fantasy and Adventure