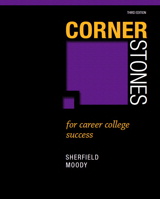 Description
The Third Edition is written specifically for the career college student focusing on their unique needs with financial aid, study tips, motivation, learning strategies, and technology.
Cornerstones for Career College Success will help career college students adjust to life in higher education, become self-motivated, master technology, use study strategies successfully, communicate more effectively, and create a dynamic job-search plan. Every student story is written by a student who graduated from a career college. New to this edition is the addition of Bloom's Taxonomy (critical thinking) integrated throughout and the total incorporation of SQ3R (reading comprehension). New chapters include, Connect, that focuses on using technology in the educational setting, Prosper, which offers updated financial management strategies such as information about student loans, scholarships, and managing debt, and Plan, the career planning chapter has been completely revised with many sample cover letters and resumes including scannable and electronic resume preparation.
Table of Contents
Preface BEGIN: The Goal of Cornerstones for Career College Success and Our Commitment to You
Chapter 1 THRIVE: Creating Success, Guiding Change, and Setting Goals
Chapter 2 PROSPER: Managing Your Money and Debts Wisely
Chapter 3 ENGAGE: Developing Your Personal and Academic Motivation
Chapter 4 PERSIST: Understanding the Culture of Your Institution
Chapter 5 CONNECT: Connecting with Technology, Research, and Information Literacy
Chapter 6 READ: Building Successful Reading Strategies for Print and Online Material
Chapter 7 PRIORITIZE: Managing Your Time, Stress, and Health Wisley
Chapter 8 LEARN: Discovering Your Learning Style, Dominant Intelligence, and Personality Type
Chapter 9 RECORD: Cultivating Your Listening Skills and Developing a Note-Taking System that Works for You
Chapter 10 STUDY: Developing Your Memory, Study, and Test-Taking Skills
Chapter 11 THINK: Building Critical Thinking, Emotional Intelligence, and Problem-Solving Skills
Chapter 12 COMMUNICATE: Communicating, Appreciating Diversity, and Managing Conflict
Chapter 13 PLAN: Creating a Dynamic Employment Package and Job Search Plan
References
This title is also sold in the various packages listed below. Before purchasing one of these packages, speak with your professor about which one will help you be successful in your course.