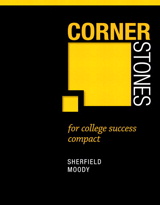 Description
For courses in Student Orientation, Student Success, and Introduction to College.
TBD.
This edition aligns with the learning outcomes from the Student Success CourseConnect online course – it is designed to be used as a print companion to the CoCo course and targets instructors who teach hybrid or online courses.
TECHNOLOGY OFFERING: Student Success CourseConnect (http://www.pearsonlearningsolutions.com/courseconnect) is available with this book upon request. It is one of many award-winning CourseConnect customizable online courses designed by subject matter experts and credentialed instructional designers, and helps students 'Start strong, Finish stronger' by building skills for ongoing personal and professional development.
Table of Contents
PREFACE
BEGIN: The Goal of Cornerstones for College Success Compact and Our Commitment to You
LESSON ONE
GROW: Building A Life Plan through Goal Setting
LESSON TWO
PRIORITIZE: Creating an Academic Time Management Plan
LESSON THREE
PROSPER: Understanding and Using Financial Literacy
LESSON FOUR
THINK: Developing Your Critical and Creative Thinking Skills
LESSON FIVE
LEARN: Discovering and Applying Your Learning Style
LESSON SIX
RECORD: Cultivating Your Listening Skills and Finding a Note-Taking System That Works for You
LESSON SEVEN
READ: Building Your Reading and Comprehension Skills
LESSON EIGHT
STUDY: Developing Your Memory, Studying, and Test Taking Skills
LESSON NINE
COMMUNICATION and DIVERSITY: Improving Your Communication Skills and Celebrating Diversity
LESSON TEN
INFORMATION LITERACY: Determining the Credibility of Ideas and Resources
LESSON ELEVEN
LIVE: Dealing with Stress in Positive Ways
LESSON TWELVE
PLAN: Exploring Your Career and Job Search Options
Purchase Info ?
With CourseSmart eTextbooks and eResources, you save up to 60% off the price of new print textbooks, and can switch between studying online or offline to suit your needs.
Once you have purchased your eTextbooks and added them to your CourseSmart bookshelf, you can access them anytime, anywhere.
Buy Access
Cornerstones for College Success Compact, CourseSmart eTextbook
Format: Safari Book
$27.99 | ISBN-13: 978-0-321-86040-8