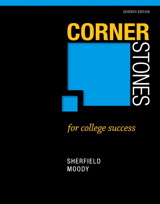 Description
For First Year Experience, Student Success, and College Success courses.
Written specifically for four-year students, Cornerstones for College Success addresses the needs and challenges of students attending universities.
TECHNOLOGY OFFERING: MyStudentSuccessLab is available with this book upon request. It is an online solution designed to help students 'Start strong, Finish stronger' by building skills for ongoing personal and professional development. Go to http://mystudentsuccesslab.com/mssl3 for a Point and Click DEMO.
Table of Contents
Preface Begin: The Goal of Cornerstones
Chapter 1 Change: Creating Success, Guiding Change, and Setting Goals
Chapter 2 Engage: Developing Your Personal and Academic Motivation
Chapter 3 Persist: Using the Tools of Self-Management to Stay in College
Chapter 4 Connect: Connecting with Technology, Research, and Information Literacy
Chapter 5 Think: Building Critical Thinking, Emotional Intelligence, and Problem Solving Skills
Chapter 6 Prioritize: Planning Your Time and Reducing Stress
Chapter 7 Learn: Discovering Your Learning Styles, Dominent Intelligences, and Personality Type
Chapter 8 Read: Building Your Reading Comprehension Skills
Chapter 9 Record: Cultivating Your Listening Skills and Developing a Note Taking System
Chapter 10 Study: Developing Your Memory, Study, and Test Taking Skills
Chapter 11 Prosper: Managing Your Money and Debts Wisely
Chapter 12 Present: Improving Your Personal and Professional Presentation Skills
Chapter 13 Communicate: Communicating, Appreciating Diversity, and Managing Conflict
Chapter 14 Live: Developing Your Plan for Wellness and Personal Responsibility
Chapter 15 Plan: Focusing on Your Professional Career and Living Well
Purchase Info ?
With CourseSmart eTextbooks and eResources, you save up to 60% off the price of new print textbooks, and can switch between studying online or offline to suit your needs.
Once you have purchased your eTextbooks and added them to your CourseSmart bookshelf, you can access them anytime, anywhere.
Buy Access
Cornerstones for College Success, CourseSmart eTextbook, 7th Edition
Format: Safari Book
$39.99 | ISBN-13: 978-0-321-86054-5