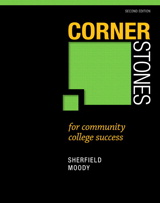 Description
For First Year Experience, Student Success, and Introduction to College courses. Written specifically for students attending two year programs, it addresses the needs and challenges of students in community and technical colleges.
Cornerstones for Community College Success is known for its concrete and practical strategies that students can apply to all college classes, the world of work, and life in general, it addresses the "why" of learning and the power of positive change. Offers hallmark coverage of Bloom's taxonomy, SQ3R integration, Information and Financial literacy. Major defining topics include first generation students, adult learners, making successful transitions, and planning for success in the second year and beyond. The ancillary materials are designed to assist instructors in delivering a top-level student success course.
Table of Contents
Preface Begin: The Goal of Cornerstones
Chapter 1 Change: Creating Success, Guiding Change, and Setting Goals
Chapter 2 Engage: Developing Your Personal and Academic Motivation
Chapter 3 Persist: Using the Tools of Self-Management to Stay in College
Chapter 4 Connect: Connecting with Technology, Research, and Information Literacy
Chapter 5 Think: Building Critical Thinking, Emotional Intelligence, and Problem Solving Skills
Chapter 6 Prioritize: Planning Your Time and Reducing Stress
Chapter 7 Learn: Discovering Your Learning Styles, Dominent Intelligences, and Personality Type
Chapter 8 Read: Building Your Reading Comprehension Skills
Chapter 9 Record: Cultivating Your Listening Skills and Developing a Note Taking System
Chapter 10 Study: Developing Your Memory, Study, and Test Taking Skills
Chapter 11 Prosper: Managing Your Money and Debts Wisely
Chapter 12 Communicate: Communicating, Appreciating Diversity, and Managing Conflict
Chapter 13 Transition: Planning for Your Future
This title is also sold in the various packages listed below. Before purchasing one of these packages, speak with your professor about which one will help you be successful in your course.
Package ISBN-13: 9780321900975
Includes this title packaged with:
Premier Planner 2013-2014
Prentice Hall SSCD
$97.87 $92.98 | Add to Cart
Package ISBN-13: 9780321986757
Includes this title packaged with:
Say This, NOT That to Your Professor: 36 Talking Tips for College Success
Ellen Bremen
$93.87 $89.18 | Add to Cart