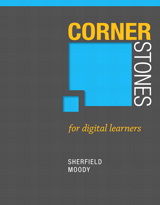 Description
Part of the Cornerstones series, this booklet focuses on student success in the digital learning environment.
Cornerstones for Digital Learners prepares students for the first days of class in a digital environment and includes a Digital Learning Assessment to help them understand readiness for online or blended learning. Students are introduced to the workings of Learning Management Systems, the differences between online and blended classes, common mistakes in digital learning, how to manage time more effectively, avoid procrastination, and manage security issues. Students are also asked to evaluate their technical skills for success in a digital class, and learn how to communicate more effectively with peers and instructors in the digital environment, effectively read digital material, and take digital assessments. Most importantly, it offers an extensive "Techno-pedia" introducing students to the language and terms used in digital classes and beyond.
Table of Contents
Cornerstones for Digital Learners helps students:
· Understand the difference between digital and blended classes
· Determine if digital learning is right for them
· Identify and use the common vocabulary for digital learning
· Determine if they are ready for digital learning
· Avoid common mistakes in digital learning
· Manage time wisely during their digital learning experience
This title is also sold in the various packages listed below. Before purchasing one of these packages, speak with your professor about which one will help you be successful in your course.