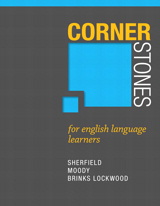 Description
For courses in Student Success, First Year seminar, Study Skills, and for any program or individual seeking strategies for English language learning success.
Cornerstones for English Language Learners supports students who are English learners through practical strategies to develop college-level reading, writing, listening and note-taking skills. Part of the Cornerstones series, this booklet offers helpful tips and concrete strategies for listening, organization, and note-taking for students whose first language is not English. It provides specific strategies for reading successfully on the college level, taking effective notes, and improving listening. Students are also encouraged to find support through campus resources such as tutoring centers, writing labs, conversation partners, international centers, and their peers.
TECHNOLOGY OFFERING: MyStudentSuccessLab is available upon request. It is an online solution designed to help students 'Start strong, Finish stronger' by building skills for ongoing personal and professional development. Go to http://mystudentsuccesslab.com/mssl3 for a Point and Click DEMO.
Table of Contents
Cornerstones for English Language Learners helps students:
· Learn the importance of being a strong reader
· See how to develop and manage college-level listening skills
· Understand the importance of effective note taking and organization
· Practice strategies for being successful with college-level reading
· Apply methods for becoming a more effective listener in college-level classes
· Use a variety of note-taking methods to help record what they have learned in class
Purchase Info ?
With CourseSmart eTextbooks and eResources, you save up to 60% off the price of new print textbooks, and can switch between studying online or offline to suit your needs.
Once you have purchased your eTextbooks and added them to your CourseSmart bookshelf, you can access them anytime, anywhere.
Buy Access
Cornerstones for English Language Learners, CourseSmart eTextbook
Format: Safari Book
$7.99 | ISBN-13: 978-0-321-86345-4