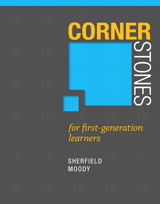 Description
For courses in Student Success, First Year seminar, Study skills, and for any program or individual seeking strategies for adult learning success.
Cornerstones for First Generation Students is designed to assist college students who are the first in their family to attend college to overcome obstacles and emotional challenges as they transition successfully as a college student.
Cornerstones for First Generation Students is a companion book that can be used in conjunction with any of the books in the Cornerstones series. This book is designed to address the specific needs of first generation students including transitioning when the student is the first one in the family to attend college, dealing with emotional challenges specific to first generation students and overcoming the major obstacles. Students are provided advice on how to communicate and seek support from family, friends, community, and peers. First generation students are taught how to seek support from on-campus clubs and organizations, counseling/academic centers, and service learning. Students are provided information to help them manage their finances, set priorities, and to utilize available campus resources. Students are shown how to improve listening skills, reading ability, note taking, and test preparation skills. First generation students are taught to overcome negative emotions, doubts, and lack of basic skills.
Several features are focused on the needs of this specific category of students, including a student story that shares the experiences of a successful first generation college student.
Finally, first generation students are shown how to be resourceful, how to practice resilience, and how to focus on achieving desired outcomes.
This companion book is designed to assist first generation college students in successfully navigating all the demands of a new college student who has had little guidance from family who are not prepared to assist them. The approach of the book is to provide confidence and comfort to students who may be afraid of entering the academic arena because they have had little information about what to expect.
Keys to Success for Adult Learners is a chapter-sized segment that provides success strategies specific to adult learners' needs, including their life demands, family responsibilities, and professional obligations in addition to school.
As part of the Keys to Success series, this concise and focused one-chapter-sized segment validates and supports the growing population of adult learners. With a discussion of the benefit of life experiences, it helps adult learners understand how what they already know can help them learn in an academic setting. With specific strategies that take into account the circumstances of non-traditionally-aged students, it helps the adult learner prepare effectively for college, work smart while there, manage academic responsibilities, and handle stress. These materials are designed to increase the engagement and retention of the adult learner, benefiting learners as well as institutions.
TECHNOLOGY OFFERING: MyStudentSuccessLab is available upon request. It is an online solution designed to help students 'Start strong, Finish stronger' by building skills for ongoing personal and professional development. Go to http://mystudentsuccesslab.com/mssl3 for a Point and Click DEMO.
Table of Contents
Cornerstones for First Generation Learners helps students:
· Transition from high school to college and from work to college
· Deal with the emotional challenges that confront first generation students
· Overcome the biggest obstacle to first generation college students
· Communicate with and seek support from family, friends, and community resources
· Utilize campus resources such as mentoring programs, advising programs, and tutoring programs
· Learn strategies for setting priorities
· Get tips for managing academic success
· Learn strategies for managing personal finances
Purchase Info ?
With CourseSmart eTextbooks and eResources, you save up to 60% off the price of new print textbooks, and can switch between studying online or offline to suit your needs.
Once you have purchased your eTextbooks and added them to your CourseSmart bookshelf, you can access them anytime, anywhere.
Buy Access
Cornerstones for First Generation Learners, CourseSmart eTextbook
Format: Safari Book
$7.99 | ISBN-13: 978-0-321-86329-4