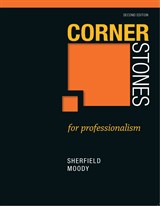 Description
The Second Edition is written specifically for college students who are preparing to go into the workforce.
Cornerstones for Professionalism prepares students for the workplace through a wide variety of techniques and strategies and shows them how to continue their upward mobility once on the job. Significantly expanded and updated to cover every aspect of the graduate's role in the workplace, the book focuses on a full gamut of preparation skills designed to assist students in getting the right job and maximizing their performance. It is filled with timely information including ethics development, personal financial management, goal setting strategies, priority and stress management related to the workplace, navigation of the human resource management maze, delivering excellent customer service techniques, working effectively with multigenerational colleagues, functioning on a global virtual team, using technology to work more productively, managing conflict and difficult people, finding the right career and driving productivity, and learning to navigate change while in a career. Unique features include Digital Briefcase© and Professionals from the Field. Among several new chapters, Understanding Financial Intelligence and Effective Communications for the Social Media Generation are sure to benefit students.
Table of Contents
PART ONE: MANAGING YOU
Chapter 1 DISCOVER: Discover Who You Are
Chapter 2 BUILD: Building a Strong Character with Impeccable Ethics
Chapter 3 PROSPER: Understanding Financial Intelligence
Chapter 4 GROW: Building a Life Plan Through Goal Setting
PART TWO: MANAGING YOUR LIFE
Chapter 5 PRIORITIZE: Strategies for Managing Priority and Stress
Chapter 6 SOCIALIZE: Avoid Workplace Landmines and Perfect Your Social Image
Chapter 7 MANAGE: Navigating the Human Resource Maze
Chapter 8 SERVE: Maximizing Customer Service and Productivity in the Workplace
PART THREE: MANAGING RELATIONSHIPS
Chapter 9 COMMUNICATE: Effective Communication for the Social Media Generation
Chapter 10 RELATE: Relationships, Diversity, and Multigenerational Distinctions
Chapter 11 LEAD: Teamwork - How to Lead and How to Follow
Chapter 12 RELATE: Managing Conflict and Dealing with Difficult People
PART FOUR: MANAGING CAREER
Chapter 13 CONNECT: Working with Technology in a Knowledge Economy
Chapter 14 PLAN: Creating a Dynamic Employment Package and Job Search Plan
Chapter 15 INTERVIEW: Interviewing Like a Pro
Chapter 16 CHANGE: Directing Your Life Through Continuous Positive Change
This title is also sold in the various packages listed below. Before purchasing one of these packages, speak with your professor about which one will help you be successful in your course.