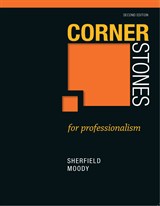 Description
TECHNOLOGY OFFERING: MyStudentSuccessLab is available with this book upon request. It is an online solution designed to help students 'Start strong, Finish stronger' by building skills for ongoing personal and professional development. Go to http://mystudentsuccesslab.com/mssl3 for a Point and Click DEMO of the Time Management module.
Table of Contents
PART ONE: MANAGING YOU
Chapter 1 DISCOVER: Discover Who You Are
Chapter 2 BUILD: Building a Strong Character with Impeccable Ethics
Chapter 3 PROSPER: Understanding Financial Intelligence
Chapter 4 GROW: Building a Life Plan Through Goal Setting
PART TWO: MANAGING YOUR LIFE
Chapter 5 PRIORITIZE: Strategies for Managing Priority and Stress
Chapter 6 SOCIALIZE: Avoid Workplace Landmines and Perfect Your Social Image
Chapter 7 MANAGE: Navigating the Human Resource Maze
Chapter 8 SERVE: Maximizing Customer Service and Productivity in the Workplace
PART THREE: MANAGING RELATIONSHIPS
Chapter 9 COMMUNICATE: Effective Communication for the Social Media Generation
Chapter 10 RELATE: Relationships, Diversity, and Multigenerational Distinctions
Chapter 11 LEAD: Teamwork - How to Lead and How to Follow
Chapter 12 RELATE: Managing Conflict and Dealing with Difficult People
PART FOUR: MANAGING CAREER
Chapter 13 CONNECT: Working with Technology in a Knowledge Economy
Chapter 14 PLAN: Creating a Dynamic Employment Package and Job Search Plan
Chapter 15 INTERVIEW: Interviewing Like a Pro
Chapter 16 CHANGE: Directing Your Life Through Continuous Positive Change
Purchase Info ?
With CourseSmart eTextbooks and eResources, you save up to 60% off the price of new print textbooks, and can switch between studying online or offline to suit your needs.
Once you have purchased your eTextbooks and added them to your CourseSmart bookshelf, you can access them anytime, anywhere.
Buy Access
Cornerstones for Professionalism, CourseSmart eTextbook, 2nd Edition
Format: Safari Book
$33.99 | ISBN-13: 978-0-13-278989-9