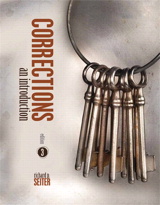 Description
For courses in Introduction to Corrections and Correctional Institutions.
This text examines corrections not just from an academic view, but from those who are at the center of the system. It includes correctional history and theory, yet concentrates on what professionals do, why they do it, and the challenges they face every day. Taking an insider's view, this edition discusses the impact of budgetary challenges, alternatives to incarceration and updates to legal decisions. New to this edition is the MyCrimeKit website featuring video interviews with correctional staff, clients and policymakers.
Table of Contents
PART I: PUTTING CORRECTIONS IN PERSPECTIVE
1. History of Crime and Punishment
2. Sentencing and the Correctional Process
PART II: CORRECTIONAL POLICY AND OPERATIONS
3. Jails
4. Probation and Intermediate Sanctions
5. Prisons
6. Parole and Prisoner Reentry
PART III: CORRECTIONAL CLIENTS
7. The Clients of Adult Correctional Agencies
8. The Juvenile Correctional System
9. Special Offenders
PART IV: PRISON LIFE
10. The Management of Prisons
11. Prison Life for Inmates
12. The World of Prison Staff
13. Custody and Treatment
14. Legal Issues and the Death Penalty
PART V: CORRECTIONAL CHALLENGES
15. Issues in Corrections
16. Questions Regarding the Future of Corrections
Purchase Info ?
With CourseSmart eTextbooks and eResources, you save up to 60% off the price of new print textbooks, and can switch between studying online or offline to suit your needs.
Once you have purchased your eTextbooks and added them to your CourseSmart bookshelf, you can access them anytime, anywhere.
Buy Access
Corrections: An Introduction, CourseSmart eTextbook, 3rd Edition
Format: Safari Book
$57.99 | ISBN-13: 978-0-13-507855-6