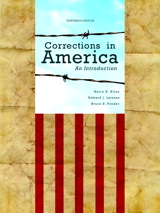 Description
Corrections in America has been the best-selling text in the field since the 1970s. The 13th edition continues its established tradition of comprehensive, student-friendly coverage with extensive supplemental material. It covers virtually all aspects of corrections, including its history, prisons in the present, correctional ideologies, sentencing and legal issues, alternatives to imprisonment, institutional corrections, and correctional clients. Freshly updated, this new edition includes research and issues important today, such as the recent decline in prison populations. Effective photos and figures provide a visual learning experience that presents complex data in a very simple and readable manner.
Table of Contents
Part 1 Historical Perspectives
Chapter 1 Early History (2000 B.C. to A.D. 1800)
Chapter 2 Prisons (1800 to the Present)
Chapter 3 Correctional Ideologies: The Pendulum Swings
Chapter 4 The Sentencing and Appeals Process
Part 2 Alternatives to Imprisonment
Chapter 5 Probation
Chapter 6 Diversion and Intermediate Sanctions
Part 3 Institutional Corrections
Chapter 7 Custody Functions
Chapter 8 Management and Treatment Functions
Chapter 9 Jails and Detention Facilities
Chapter 10 State and Local Prison Systems
Chapter 11 The Federal System
Chapter 12 Private-Sector Systems
Chapter 13 Parole and Reentry
Chapter 14 The Death Penalty
Part 4 Correctional Clients
Chapter 15 Inmate and Ex-Offender Rights
Chapter 16 Male Offenders
Chapter 17 Female Offenders
Chapter 18 Juvenile Offenders
Chapter 19 Special-Category Offenders
Purchase Info
ISBN-10: 0-13-272677-7
ISBN-13: 978-0-13-272677-1
Format: Alternate Binding
Digital Choices ?
MyLab & Mastering with Pearson eText is a complete digital substitute for a print value pack at a lower price.
MyLab & Mastering ?
MyLab & Mastering products deliver customizable content and highly personalized study paths, responsive learning tools, and real-time evaluation and diagnostics. MyLab & Mastering products help move students toward the moment that matters most—the moment of true understanding and learning.
+ Other Options
eTextbook ?
With CourseSmart eTextbooks and eResources, you save up to 60% off the price of new print textbooks, and can switch between studying online or offline to suit your needs.
Once you have purchased your eTextbooks and added them to your CourseSmart bookshelf, you can access them anytime, anywhere.