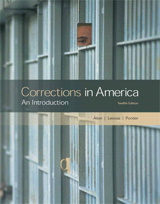 Description
For courses in Introduction to Corrections
The 12th edition of Corrections in America has been the premier text for introductory corrections in the last third of a century. It is the longest continuously published work on corrections in the nation. Its clarity and well-designed learning features continue to make it a favorite of instructors and students alike. The accompanying CD-Rom includes videos providing an overview of each chapter, as well as introducing students to leading criminologists on topics that provide depth and enrichment.
Table of Contents
Part 1: Historical Perspectives
Chapter 1: Early History (2000 B.C. to 1800 A.D.)
Chapter 2: Prisons (1800 to the Present)
Chapter 3: Correctional Ideologies: The Pendulum Swings
Chapter 4: The Sentencing and Appeals Process
Part 2: Alternatives to Imprisonment
Chapter 5: Probation
Chapter 6: Diversion and Intermediate Sanctions
Part 3: Institutional Corrections
Chapter 7: Custody Functions
Chapter 8: Management and Treatment Functions
Chapter 9: Jails and Detention Facilities
Chapter 10: State and Local Prison Systems
Chapter 11: The Federal System
Chapter12: Priviate Sector Systems
Chapter 13: Parole and Reentry
Chapter 14: The Death Penalty
Part 4: Correctional Clients
Chapter 15: Inmate and Ex-Offender Rights
Chapter 16: Male Offenders
Chapter 17: Female Offenders
Chapter 18: Juvenile Offenders
Chapter 19: Special Category Offenders
Purchase Info ?
With CourseSmart eTextbooks and eResources, you save up to 60% off the price of new print textbooks, and can switch between studying online or offline to suit your needs.
Once you have purchased your eTextbooks and added them to your CourseSmart bookshelf, you can access them anytime, anywhere.
Buy Access
Corrections in America: An Introduction, CourseSmart eTextbook, 12th Edition
Format: Safari Book
$79.00 | ISBN-13: 978-0-13-503440-8