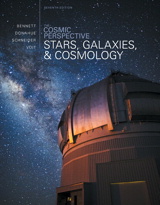 Description
Building on a long tradition of effective pedagogy and comprehensive coverage, The Cosmic Perspective; Stars and Galaxies, Seventh Edition provides a thoroughly engaging and up-to-date introduction to astronomy for non-science majors. The text provides a wealth of features that enhance skill-building, including new group work exercises that help you retain concepts longer and build communication skills for the future. The Seventh Edition has also been fully updated to include the latest astronomical observations, results from recent space missions, research, and theoretical developments that inform our understanding of the early universe.
This volume includes Chapters 1-6, S2-S4, and 14-24 of the main text, The Cosmic Perspective, Seventh Edition.
Note: ISBN 0321839552 9780321839558 Cosmic Perspective, The, 7/e -is the complete book.
Table of Contents
I. DEVELOPING PERSPECTIVE
1. Our Place in the Universe
2. Discovering the Universe for Yourself
3. The Science of Astronomy
S1. Celestial Timekeeping and Navigation
II. KEY CONCEPTS FOR ASTRONOMY
4. Making Sense of the Universe: Understanding Motion, Energy, and Gravity
5. Light and Matter: Reading Messages from the Cosmos
6. Telescopes: Portals of Discovery
S2. Space and Time
S3. Spacetime and Gravity
S4. Building Blocks of the Universe
14. Our Star
15. Surveying the Stars
16. Star Birth
17. Star Stuff
18. The Bizarre Stellar Graveyard
VI. GALAXIES AND BEYOND
19. Our Galaxy
20. Galaxies and the Foundation of Modern Cosmology
21. Galaxy Evolution
22. Dark Matter, Dark Energy, and the Fate of the Universe
23. The Beginning of Time
VII. LIFE ON EARTH AND BEYOND
24. Life in the Universe
This title is also sold in the various packages listed below. Before purchasing one of these packages, speak with your professor about which one will help you be successful in your course.
Package ISBN-13: 9780133978810
Includes this title packaged with:
Modified MasteringAstronomy with Pearson eText -- ValuePack Access Card -- for The Cosmic Perspective, 7th Edition
Jeffrey O. Bennett, Megan O. Donahue, Nicholas Schneider, Mark Voit
$133.00 | Add to Cart
Package ISBN-13: 9780133939309
Includes this title packaged with:
Edmund Scientific Star and Planet Locator
Edmund Scientific
MasteringAstronomy with Pearson eText -- ValuePack Access Card -- for The Cosmic Perspective, 7th Edition
Jeffrey O. Bennett, Megan O. Donahue, Nicholas Schneider, Mark Voit
Starry Night College Student Access Code Card, 7th Edition
I Simulation Curriculum
$143.00 | Add to Cart
Package ISBN-13: 9780321950338
Includes this title packaged with:
Lecture- Tutorials for Introductory Astronomy, 3rd Edition
Edward E. Prather, Tim P. Slater, Jeff P. Adams, Gina Brissenden
MasteringAstronomy with Pearson eText -- ValuePack Access Card -- for The Cosmic Perspective, 7th Edition
Jeffrey O. Bennett, Megan O. Donahue, Nicholas Schneider, Mark Voit
SkyGazer 5.0 Student Access Code Card (Integrated component)
. . Carina Software
$173.33 $165.96 | Add to Cart