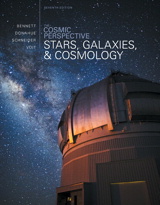 Description
Building on a long tradition of effective pedagogy and comprehensive coverage, The Cosmic Perspective; Stars and Galaxies, Seventh Edition provides a thoroughly engaging and up-to-date introduction to astronomy for non-science majors. The text provides a wealth of features that enhance skill-building, including new group work exercises that help you retain concepts longer and build communication skills for the future. The Seventh Edition has also been fully updated to include the latest astronomical observations, results from recent space missions, research, and theoretical developments that inform our understanding of the early universe.
This volume includes Chapters 1-6, S2-S4, and 14-24 of the main text, The Cosmic Perspective, Seventh Edition.
Note: ISBN 0321839552 9780321839558 Cosmic Perspective, The, 7/e -is the complete book.
This is the standalone book, if you want the book/access card order the ISBN below after checking with your Instructor to make sure this is the correct ISBN.
ALERT: Before you purchase, check with your instructor or review your course syllabus to ensure that you select the correct ISBN. Several versions of Pearson's MyLab & Mastering products exist for each title, including customized versions for individual schools, and registrations are not transferable. In addition, you may need a CourseID, provided by your instructor, to register for and use Pearson's MyLab & Mastering products.
NOTE: Make sure to use the dashes shown on the Access Card Code when entering the code.
Student can use the URL and phone number below to help answer their questions:
http://247pearsoned.custhelp.com/app/home
800-677-6337
0321931483 / 9780321931481 Cosmic Perspective, The: Stars and Galaxies & MasteringAstronomy with Pearson eText -- ValuePack Access Card Package,
Package consists of:
0321840925 / 9780321840929 MasteringAstronomy with Pearson eText -- ValuePack Access Card -- for The Cosmic Perspective
0321841077 / 9780321841070 Cosmic Perspective, The: Stars and Galaxies
Table of Contents
I. DEVELOPING PERSPECTIVE
1. Our Place in the Universe
2. Discovering the Universe for Yourself
3. The Science of Astronomy
S1. Celestial Timekeeping and Navigation
II. KEY CONCEPTS FOR ASTRONOMY
4. Making Sense of the Universe: Understanding Motion, Energy, and Gravity
5. Light and Matter: Reading Messages from the Cosmos
6. Telescopes: Portals of Discovery
S2. Space and Time
S3. Spacetime and Gravity
S4. Building Blocks of the Universe
14. Our Star
15. Surveying the Stars
16. Star Birth
17. Star Stuff
18. The Bizarre Stellar Graveyard
VI. GALAXIES AND BEYOND
19. Our Galaxy
20. Galaxies and the Foundation of Modern Cosmology
21. Galaxy Evolution
22. Dark Matter, Dark Energy, and the Fate of the Universe
23. The Beginning of Time
VII. LIFE ON EARTH AND BEYOND
24. Life in the Universe