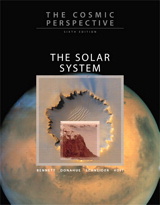 Description
Building on a long tradition of effective pedagogy and comprehensive coverage, The Cosmic Perspective: The Solar System, Sixth Edition provides the most engaging and up-to-date introduction to astronomy for non-science majors. The text provides a wealth of features to help enhance student skill building, including new Visual Skills Check end-of-chapter questions that provide an opportunity for students to test their visual interpretation skills, new Cosmic Context Figures that help students synthesize key concepts and processes, and a new comprehensive visual overview of scale to help students explore the scale of time and space. The Sixth Edition has also been fully updated to include the latest astronomical observations, research, and theoretical developments. The text is supported by the most robust package of instructor ancillaries, and MasteringAstronomy™, the market-leading online tutorial and homework system, has been updated to include a wealth of new content to help students learn and review more efficiently outside of class.
This Volume includes Chapters Chapters 1-13, 14, and 24 of the main text.
Table of Contents
I. DEVELOPING PERSPECTIVE
1. Our Place in the Universe
2. Discovering the Universe for Yourself
3. The Science of Astronomy
SI Celestial Timekeeping and Navigation
II. KEY CONCEPTS FOR ASTRONOMY
4. Making Sense of the Universe: Understanding Motion, Energy, and Gravity
5. Light and Matter: Reading Messages from the Cosmos
6. Telescopes: Portals of Discovery
III. LEARNING FROM OTHER WORLDS
7. Our Plaentary System
8. Formation of the Solar System
9. Planetary Geology: Earth and the Other Terrestrial Worlds
10. Planetary Atmospheres: Earth and the Other Terrestrial Worlds
11. Jovian Planet Systems
12. Asteroids, Comets, and Dwarf Planets: Their Nature, Orbits, and Impacts
13. Other Planetary Systems: The New Science of Distant Worlds
V. STARS
14. Our Star
VII. LIFE ON EARTH AND BEYOND
24. Life in the Universe
Purchase Info
ISBN-10: 0-321-64267-8
ISBN-13: 978-0-321-64267-7
Format: Alternate Binding
Digital Choices ?
MyLab & Mastering with Pearson eText is a complete digital substitute for a print value pack at a lower price.
eTextbook ?
With CourseSmart eTextbooks and eResources, you save up to 60% off the price of new print textbooks, and can switch between studying online or offline to suit your needs.
Once you have purchased your eTextbooks and added them to your CourseSmart bookshelf, you can access them anytime, anywhere.