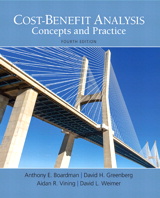 Description
<>
For courses in Cost-Benefit Analysis, taught in Economics Departments, Public Policy Departments, and Public Administration Departments. Also ideal for practicing policy analysts and public managers.
This authoritative, market leading text is distinct for it's consistent application of a nine-step framework for conducting or interpreting a cost-benefit analysis.
Table of Contents
Part I: Overview
Chapter 1. Introduction to Cost-Benefit Analysis
Chapter 2. Conceptual Foundations of Cost-Benefit Analysis
Part II: Fundamentals of CBA
Chapter 3. Economics Foundations of Cost-Benefit Analysis
Chapter 4. Valuing Benefits and Costs in Primary Markets
Chapter 5. Valuing Benefits and Costs in Secondary Markets
Chapter 6. Discounting Benefits and Costs in Future Time Periods
Chapter 7. Dealing with Uncertainty: Expected Values, Sensitivity Analysis, and the Value of Information
Chapter 8. Option Price and Option Value
Chapter 9. Existence Value
Chapter 10. The Social Discount Rate
Part III: Valuation of Impacts
Chapter 11. Predicting and Monetizing Impacts
Chapter 12. Valuing Impacts From Observed Behavior: Experiments and Quasi-Experiments
Chapter 13. Valuing Impacts from Observed Behavior: Direct Estimation of Demand Curves
Chapter 14. Valuing Impacts from Observed Behavior: Indirect Market Methods
Chapter 15. Contingent Valuation: Using Surveys to Elicit Information About Costs and Benefits
Chapter 16. Shadow Prices from Secondary Sources
Chapter 17. Shadow Prices: Applications to Developing Countries
Part IV: Related Methods
Chapter 18. Cost-Effectiveness Analysis
Chapter 19. Distributionally Weighted Cost-Benefit Analysis
Chapter 20. How Accurate is CBA?


Purchase Info ?
With CourseSmart eTextbooks and eResources, you save up to 60% off the price of new print textbooks, and can switch between studying online or offline to suit your needs.
Once you have purchased your eTextbooks and added them to your CourseSmart bookshelf, you can access them anytime, anywhere.
Buy Access
Cost-Benefit Analysis, CourseSmart eTextbook, 4th Edition
Format: Safari Book
$76.99 | ISBN-13: 978-0-13-700270-2