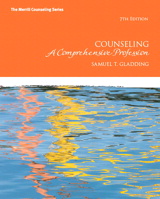 Description
The most comprehensive guide to the Counseling profession available!
Still the most readable, practical, and comprehensive overview of the roles and responsibilities of the professional counselor on the market, the seventh edition of Counseling: A Comprehensive Profession is updated and improved to meet the emerging needs of the developing counselor. Containing an even stronger emphasis on counseling as a profession and counseling as an identity along with new or expanded sections on history, wellness, trauma, social justice, multiculturalism, rehabilitation, motivational interviewing, bullying, microaggression, international counseling, process addiction, abuse, and ethical and legal issues in counseling, this text is more equipped to help students prepare for professional challenges and a lifetime as an effective counselor than ever before.
Table of Contents
PROLOGUE

PART 1 HISTORICAL AND PROFESSIONAL FOUNDATIONS OF COUNSELING
CHAPTER 1: History of and Trends in Counseling
CHAPTER 2: Personal and Professional Aspects of Counseling
CHAPTER 3: Ethical and Legal Aspects of Counseling
CHAPTER 4: Counseling in a Multicultural Society
CHAPTER 5: Counseling With Diverse Populations
PART 2 COUNSELING PROCESSES AND THEORIES

CHAPTER 6: Building Counseling Relationships
CHAPTER 7: Working in a Counseling Relationship
CHAPTER 8: Closing Counseling Relationships
CHAPTER 9: Psychoanalytic, Adlerian, and Humanistic Theories of Counseling
CHAPTER 10: Behavioral, Cognitive, Systemic, Brief, and Crisis Theories of Counseling
PART 3 Core Counseling Activities In Various Settings
CHAPTER 11: Groups in Counseling
CHAPTER 12: Consultation
CHAPTER 13: Evaluation and Research
CHAPTER 14: Testing, Assessment, and Diagnosis in Counseling
PART 4 COUNSELING SPECIALTIES

CHAPTER 15: Career Counseling Over the Life Span
CHAPTER 16: Marriage, Couple, and Family Counseling
CHAPTER 17: Professional School Counseling
CHAPTER 18: College Counseling and Student-Life Services
CHAPTER 19: Abuse, Addiction, Disability and Counseling
CHAPTER 20: Clinical Mental Health and Private Practice Counseling

EPILOGUE
APPENDIX A Counseling-Related Organizations
References
Name Index
Subject Index

Purchase Info ?
With CourseSmart eTextbooks and eResources, you save up to 60% off the price of new print textbooks, and can switch between studying online or offline to suit your needs.
Once you have purchased your eTextbooks and added them to your CourseSmart bookshelf, you can access them anytime, anywhere.
Buy Access
Counseling: A Comprehensive Profession, CourseSmart eTextbook, 7th Edition
Format: Safari Book
$64.99 | ISBN-13: 978-0-13-268573-3