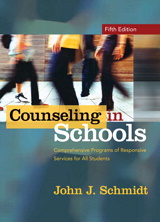 Description
<>
This popular school counseling text helps students understand the components and services that comprise comprehensive school counseling programs in the context of the 21st Century.
The fifth edition retains important historical foundations of the school counseling profession while adapting contemporary definitions and terms to describe comprehensive models for the 21st Century. New information has been added about the ASCA National Model as well as other approaches to comprehensive programs.
An entire new chapter about diversity and how increasingly diverse populations will influence school counseling programs and the work of counselors in schools expands this new edition. Diagrams, sample forms, figures, and other illustrations throughout the text clarify points of information, provide practical examples, and offer opportunities for class discussion.
Table of Contents
Preface
Chapter I: The School Counseling Profession
Chapter II: Diverse Students, Communities, and Schools
Chapter III: The School Counselor and Program Leadership
Chapter IV: Comprehensive School Counseling Programs
Chapter V: Responsive Services of a Comprehensive Program
Chapter VI: Program Development
Chapter VII: Individual Counseling and Group Processes
Chapter VIII: Collaboration and Consultation
Chapter IX: Student Appraisal
Chapter X: Educational and Career Development
Chapter XI: Evaluation of School Counseling Programs
Chapter XII: Professional Ethics and Legal Issues
Chapter XIII: School Counseling Today and Tomorrow
Appendix A: Ethical Standards
References
Author Index
Subject Index