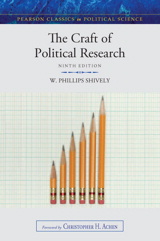 Description
Updated in its 9th edition, The Craft of Political Research immerses readers not only in how political scientists work but also in how ideas produce research questions and guide the selection of research methods. Emphasizing the internal logic of research methods and the collaborative nature of the research process, this slender text explores the design behind interesting questions, problems in measurement and analysis, and key statistical methods. The Craft of Political Research's elegant explanations inspire a big picture understanding of how political scientists explain political reality and encourage students to create their own inventive, original, and bold research work.
Table of Contents
Chapter 1. Doing Research
Chapter 2. Political Theories and Research Topics
Chapter 3. Importance of Dimensional Thinking
Chapter 4. Problems of Measurement: Accuracy
Chapter 5. Problems of Measurement: Precision
Chapter 6. Causal Thinking and Design of Research
Chapter 7. Selection of Observations for Study
Chapter 8. Introduction to Statistics: Measuring Relationships for Interval Data
Chapter 9. Introduction to Statistics: Further Topics on Measurement of Relationships
Chapter 10. Introduction to Statistics: Inference, or How to Gamble on Your Research
Purchase Info
Digital Choices ?
MyLab & Mastering with Pearson eText is a complete digital substitute for a print value pack at a lower price.
MyLab & Mastering ?
MyLab & Mastering products deliver customizable content and highly personalized study paths, responsive learning tools, and real-time evaluation and diagnostics. MyLab & Mastering products help move students toward the moment that matters most—the moment of true understanding and learning.
eTextbook ?
With CourseSmart eTextbooks and eResources, you save up to 60% off the price of new print textbooks, and can switch between studying online or offline to suit your needs.
Once you have purchased your eTextbooks and added them to your CourseSmart bookshelf, you can access them anytime, anywhere.