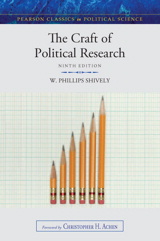 Description
The Craft of Political Research immerses readers not only in how political scientists work but also in how ideas produce research questions and guide the selection of research methods.
Emphasizing the internal logic of research methods and the collaborative nature of the research process, this slender text explores the design behind interesting questions, problems in measurement and analysis, and key statistical methods. Brief and inexpensive to include in any course, The Craft of Political Research¿s elegant explanations inspire a big picture understanding of how political scientists explain political reality and encourage students to create their own inventive, original, and bold research work.

Features include:
Focuses on the big picture of how good research leads to good theories instead of just what research method to use.
Provides concise and accessible coverage of key topics, including the nature of research, research design, sampling, statistical analysis, ethics, and more.
Includes detailed examples of classic and contemporary political science research to give students models for their own original research.

Table of Contents
Chapter 1. Doing Research
Chapter 2. Political Theories and Research Topics
Chapter 3. Importance of Dimensional Thinking
Chapter 4. Problems of Measurement: Accuracy
Chapter 5. Problems of Measurement: Precision
Chapter 6. Causal Thinking and Design of Research
Chapter 7. Selection of Observations for Study
Chapter 8. Introduction to Statistics: Measuring Relationships for Interval Data
Chapter 9. Introduction to Statistics: Further Topics on Measurement of Relationships
Chapter 10. Introduction to Statistics: Inference, or How to Gamble on Your Research

Purchase Info
ISBN-10: 0-205-85462-1
ISBN-13: 978-0-205-85462-2
Format: Book
This publication is not currently for sale.