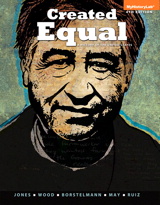 Description
Re-examines American History through the theme of contested equality
Taking an inclusive view of American history, Created Equal emphasizes the struggles for equality experienced by diverse groups of Americans across the many regions of the nation. With a steadfast chronological framework, and a strong narrative thread, the authors offer a fresh and critical perspective on the traditional story.
MyHistoryLab is an integral part of the Jones program. Key learning applications include assessment, MyHistoryLab Video Series, and History Explorer.
A better teaching and learning experience
This program will provide a better teaching and learning experience–for you and your students. Here's how:
Personalize Learning — MyHistoryLab is an online homework, tutorial, and assessment program. It helps students prepare for class and instructor gauge individual and class performance.
Emphasize Outcomes — Learning Objective Questions at the beginning of each chapter and a chapter review and thematic timeline ending each chapter keep students focused on what they need to know. On MyHistoryLab, practice tests help students achieve these objectives by measuring progress and creating personalized study plans.
Engage Students — A new pedagogically-driven design highlights a clear learning path through the material and offers a visually stunning learning experience in print or on a screen. With the Pearson eText, students can transition directly to MyHistoryLab resources such as primary source documents, videos, and mapping exercises.
Improve Critical Thinking — Powerful learning applications in MyHistoryLab–including Explorer mapping exercises, Closer Look analyses of sources and topics, and Writing Assessments tied to engaging videos–promote critical thinking.
Support Instructors — MyHistoryLab, Instructor's eText, MyHistoryLab Instructor's Guide, Class Preparation Tool, Instructor's Manual, MyTest, and PowerPoints are available.
0205950345 / 9780205950348 Created Equal: A History of the United States, Combined Volume Plus New MyHistoryLab with eText -- Access Card Package, 4/e
Package consists of:

0205206549 / 9780205206544 NEW MyHistoryLab with Pearson eText -- Valuepack Access Card
0205901301 / 9780205901302 Created Equal: A History of the United States, Combined Volume
Table of Contents
Chapter 1: First Founders
Chapter 2: European Footholds in North America, 1600–1660
Chapter 3: Controlling the Edges of the Continent, 1600–1715
Chapter 4: African Enslavement: The Terrible Transformation
Chapter 5: Colonial Diversity, 1713–1763
Chapter 6: The Limits of Imperial Control, 1763–1775
Chapter 7: Revolutionaries at War, 1775–1783
Chapter 8: New Beginnings: The 1780s
Chapter 9: Revolutionary Legacies, 1789–1803
Chapter 10: Defending and Expanding the New Nation, 1804–1818
Chapter 11: Societ y and Politics in t he "Age of the Common Man," 1819–1832
Chapter 12: Peoples in Motion, 1832–1848
Chapter 13: The Crisis over Slavery, 1848–1860
Chapter 14: "To Fight to Gain a Country": The Civil War
Chapter 15: Consolidating a Triumphant Union, 1865–1877
Chapter 16: Standardizing the Nation: Innovations in Technology,Business, and Culture, 1877–1890
Chapter 17: Challenges to Government and Corporate Power, 1877–1890
Chapter 18: Political and Cultural Conflict in a Decade of Depression and War: The 1890s
Chapter 19: Visions of the Modern Nation: The Progressive Era, 1900–1912
Chapter 20: War and Revolution, 1912–1920
Chapter 21: All That Jazz: The 1920s
Chapter 22: Hards hip and H ope : The Great Depression of the 1930s
Chapter 23: Global Conflict: World War II, 1937–1945
Chapter 24: Cold War and Hot War, 1945–1953
Chapter 25: Domestic Dreams and Atomic Nightmares, 1953–1963
Chapter 26: The Nation Divides: The Vietnam War and Social Conflict, 1964–1971
Chapter 27: Reconsidering National Priorities, 1972–1979
Chapter 28: The Cold War Returns—and Ends, 1979–1991
Chapter 29: Post-Cold War America, 1991–2000
Chapter 30: A Global Nation in the New Millennium

Purchase Info
ISBN-10: 0-205-90130-1
ISBN-13: 978-0-205-90130-2
Format: Alternate Binding
Digital Choices ?
MyLab & Mastering with Pearson eText is a complete digital substitute for a print value pack at a lower price.
MyLab & Mastering ?
MyLab & Mastering products deliver customizable content and highly personalized study paths, responsive learning tools, and real-time evaluation and diagnostics. MyLab & Mastering products help move students toward the moment that matters most—the moment of true understanding and learning.
+ Other Options
eTextbook ?
With VitalSource eTextbooks, you save up to 60% off the price of new print textbooks, and can switch between studying online or offline to suit your needs.
Access your course materials on iPad, Android and Kindle devices with VitalSource Bookshelf, the textbook e-reader that helps you read, study and learn brilliantly. Features include:
See all of your eTextbooks at a glance and access them instantly anywhere, anytime from your Bookshelf - no backpack required.
Multiple ways to move between pages and sections including linked Table of Contents and Search make navigating eTextbooks a snap.
Highlight text with one click in your choice of colors. Add notes to highlighted passages. Even subscribe to your classmates' and instructors' highlights and notes to view in your book.
Scale images and text to any size with multi-level zoom without losing page clarity. Customize your page display and reading experience to create a personal learning experience that best suits you.
Print only the pages you need within limits set by publisher
Supports course materials that include rich media and interactivity like videos and quizzes
Easily copy/paste text passages for homework and papers
Supports assistive technologies for accessibility by vision and hearing impaired users