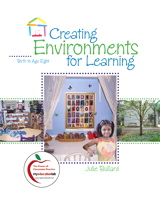 Description
Covers Birth to Age Eight. This new text provides a balance of theory and application to help novices and practicing early childhood professionals understand why and how to set up, arrange, and make changes to early childhood learning environments. Organized largely by chapters on learning centers (literacy, manipulative and sensory, science, mathematics, etc.), the text also covers foundational information such as the emotionally supportive and equitable environment, the role of the teacher, the importance of the environment, design principles, and health and safety. Coverage woven through every chapter includes material for all age groups in early childhood (infants and toddlers through 3rd grade), assessing the environment, meeting the needs of ALL learners, the teacher's role in facilitating learning in the various environments, and ways to address each curricular area outdoors.
It is designed for college courses taught at two and four year institutions that focus on quality early childhood learning environments and curriculum.
Table of Contents
CHAPTER 1: UNDERSTANDING THE IMPORTANCE OF THE ENVIRONMENT
Why is the environment important for children's learning?
The environment and developmentally appropriate practice
Reducing behavioral issues through environmental design
Theorists and approaches supporting the importance of the environment
Guidelines for creating effective learning environments: Role of the teacher
Sample Application Activities
CHAPTER 2: ESTABLISHING AN EMOTIONALLY SUPPORTIVE AND EQUITABLE ENVIRONMENT
Circle of Courage: Defining an emotional supportive, equitable environment
Circle of Courage Foundations
The teacher's role in supporting the circle of courage
Sample Application Activities
CHAPTER 3: ESTABLISHING A CONTEXT FOR LEARNING: DESIGNING SCHEDULES, TRANSITIONS, GROUPINGS, AND ASSESSMENTS
Schedules: Structuring Time
Designing Effective Transitions
Planning Successful Groups
Assessing and Documenting Children's Learning
Sample Application Activities
CHAPTER 4: CREATING A HEALTHY, SAFE ENVIRONMENT
Preventing illness in early childhood settings
Safety in early childhood environments
Designing healthy, aesthetic bathrooms, diaper changing stations, and sleeping areas
Sample Application Activities
CHAPTER 5: ARRANGING AN EFFECTIVE ENVIRONMENT
Guidelines for Creating a Room with Learning Centers
Guidelines for Developing Effective Room Arrangements and Floor Plans
Sample room arrangements
Furniture and Dividers
Storage
Sample Application Activities
CHAPTER 6: DESIGN CONSIDERATIONS
Desired design outcomes
Design elements
Design palettes
Special design considerations
Sample application activities
CHAPTER 7: DEVELOPING LITERACY CENTERS
Stages of literacy development
How the literacy center enhances children's development
Designing an effective literacy center
Special considerations for infants and toddlers
Teachers' facilitation of learning in the literacy center
Literacy in the outdoors
Sample application activities
CHAPTER 8: DEVELOPING MANIPULATIVE AND SENSORY CENTERS
The manipulative center
Stages of fine motor development
How the manipulative center enhances children's development
Designing an effective manipulative center
Appropriate materials for the manipulative area
Special considerations for infants and toddlers
Special considerations for older children
Teachers' facilitation of learning in the manipulative center
The sensory center
Designing an effective sensory center
Appropriate materials for the sensory center
Teachers' facilitation of learning in the sensory center
Special challenges in the manipulative and sensory center
Outdoor manipulative and sensory play
Sample Application Activities
CHAPTER 9: DEVELOPING SCIENCE CENTERS
History of science education
Children's development of scientific concepts
How the science center enhances children's development
Designing an effective science center
Science center environments that support children's learning
Special considerations for infants and toddlers
Teachers' facilitation of learning in the science center
Outdoor science centers
Sample application activities
CHAPTER 10: DEVELOPING MATH CENTERS
How children learn math
How the math center enhances children's development
Designing an effective math center
Appropriate materials for the math center
Center materials relating to the math standards
Special considerations and materials for infants and toddlers
Teachers' facilitation of learning in the math center
Outdoor math centers
Sample application activities
CHAPTER 11: DEVELOPING BLOCK AND BUILDING CENTERS
History of Blocks
Stages of Block Building
How the block center enhances children's development
Designing an effective block center
Appropriate materials for the block center
Special considerations for infants and young toddlers
Teachers' facilitation of learning in the block center
Special challenges in the block area
Outdoor block and building centers
Sample application activities
CHAPTER 12: DEVELOPING DRAMATIC PLAY CENTERS
Development of dramatic play
How the dramatic play center enhances children's development
Designing an effective dramatic play center
Special considerations for infants and toddlers
Special considerations for school age (K-3) children
Changes to the dramatic play center
Prop boxes
Teachers' facilitation of learning in the dramatic play center
Special challenges in the dramatic play center
Outdoor dramatic play centers
Sample application activities
CHAPTER 13: DEVELOPING ART CENTERS
Approaches to art
Stages of art in the early childhood years
How the art center enhances children's development
Designing an effective art center
Art goals: Creating and appreciating art
Appropriate activities and materials for creating art
Special considerations and materials for infants and toddlers
Appropriate materials and activities for appreciating art
Teachers' facilitation of learning in the art center
Special challenges in the art area
Outdoor art centers
Sample application activities
CHAPTER 14: DEVELOPING MUSIC CENTERS
Development of music skills
How the music center enhances children's development
Designing the music center
Music standards
Appropriate materials for the music center
Special considerations for infants and toddlers
Teachers' facilitation of learning in the music center
Special challenges in the music center
Outdoor music centers
Sample application activities
CHAPTER 15: INTEGRATING TECHNOLOGY
How the use of technology can enhance children's development
Using technology in the classroom
Technology activities to support the curriculum
Special considerations for infants and toddlers
Teachers' facilitation of learning through technology
Sample application activities
CHAPTER 16: SPECIAL INTEREST CENTERS
Centers to support theme and project-based learning
Indoor physical or fitness center
Puppetry centers
Cooking and snack centers
Woodworking and carpentry centers
Sample application activities
CHAPTER 17: CREATING OUTDOOR ENVIRONMENTS
The value of outdoor play
Protecting children's right to play outdoors
History of playgrounds
Types of playgrounds
How playing in the outdoors enhances children's development
Designing an effective outdoor environment
Designing playgrounds for specific age groups
Teachers' facilitation of learning in the outdoor environment
Sample application activities
CHAPTER 18: CREATING SPACES FOR FAMILIES AND TEACHERS
Meeting the needs of families
Meeting the needs of staff
Sample application activities
CHAPTER 19: MEETING ENVIRONMENTAL CHALLENGES
Creating centers in small spaces
Free and inexpensive materials to assist a limited budget
Establishing an early childhood program in your home
Designing the afterschool space
Sample application activities
REFEREENCES