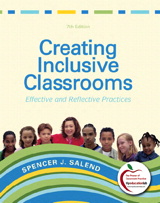 Components of the Package:
MyLab Education -- Valuepack Access Card
By . . Pearson Education
Creating Inclusive Classrooms: Effective and Reflective Practices, 7th Edition
By Spencer J. Salend
Description
Creating an inclusive classroom means understanding federal legislation as well as national and state standards, but the practical and streamlined seventh edition of Creating Inclusive Classrooms: Effective and Reflective Practices recognizes that it means more than that. This text goes beyond the typical inclusion text, translating theory and research into practices you can use in your inclusive classroom by illustrating the principles of effective inclusion through classroom scenarios, online footage, and successful strategies. The text has the most current vision of today's inclusive classroom, which truly helps you create a successful educational experience for all students.
New to This Edition:
NEW! UDL and You features throughout the text guide you in understanding and implementing the principles of universal design to help all learners access the general education curriculum and succeed in inclusive classrooms.
NEW! MyEducationLab notes throughout chapters direct you to online learning experiences and examples of best practices that use video footage and IRIS simulations to illustrate chapter concepts.
Updated and Reconsidered! What Would You Do in Today's Diverse Classroom? features integrate interactive online learning experiences from MyEducationLab into each chapter. These end of chapter features take you online to see inclusive classrooms, then ask you to apply what you've learned in the chapter to the situations.
NEW! Up to date coverage of Response to Intervention (RtI) is introduced early in the text and picked up with specific classroom guidance in Chapter 12.
Expanded and latest research on universal design for learning (UDL), autism spectrum disorders, co-teaching arrangements, instructional technology, differentiating instruction, Positive Behavioral Supports, student diversity and motivation, fostering students' literacy and mathematics learning, research-based teaching strategies, assessing and grading students in inclusive classrooms, teaching and testing accommodations, building social relationshipsand implementing IEPs in inclusive classrooms.
Table of Contents
Part 1: Understanding the Foundations and Fundamentals of Inclusion
1. Understanding Inclusion
2. Understanding the Diverse Educational Strengths and Challenges of Students with Disabilities
3. Understanding the Diverse Educational Strengths and Challenges of Students Who Challenge Schools
Part 2: Creating an Inclusive Environment that Supports Learning for All Students
4. Creating Collaborative Relationships and Fostering Communication
5. Creating an Environment that Fosters Acceptance and Friendship
6. Creating Successful Transitions to Inclusive Settings
7. Creating a Classroom Environment that Promotes Positive Behavior
Part 3: Differentiating Instruction for All Students
8. Differentiating Instruction for Diverse Learners
9. Differentiating Large- and Small-Group Instruction
10. Differentiating Reading, Writing, and Spelling Instruction
11. Differentiating Mathematics, Science, and Social Studies Instruction
Part 4: Evaluating Individual and Programmatic Progress
12. Evaluating Student Progress and the Effectiveness of Your Inclusion Program