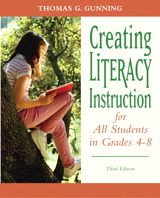 Description
Theory combines with practical, step-by-step guidance, sample lessons, numerous reinforcement suggestions, and generous recommendations for specific children's books and other reading materials to prepare readers to teach all major aspects of reading and writing–including the new literacies–to students in grades four to eight.
Designed to be immediately useful in the classroom, this popular text offers detailed explanations for every major technique or strategy, along with numerous suggestions for practice activities and reading materials. It's an approach that gives readers in-depth knowledge of literacy methods and materials and enables them to construct lively, effective reading and writing instruction for all students, with special emphasis on today's diverse classrooms.
By focusing on helping teachers discover what works best in their own personal teaching styles and situations, renowned author Thomas Gunning presents the major approaches and techniques shown by research and practice to be successful. Teachers are amply prepared to choose, adapt, and/or construct strategies that work best for them.
Table of Contents
The Nature of Literacy and Today's Students
Diversity in the Classroom
Evaluation
Teaching Phonics, High-Frequency Words, and Syllabic Analysis
Building Vocabulary
Comprehension: Theory and Strategies
Comprehension: Text Structures and Teaching Procedures
Reading and Writing in the Content Areas and Study Skills
Reading Literature
Approaches to Teaching Reading
Writing and Reading
Creating and Managing a Literacy Program
Appendix : Informal Assessment of Key Skills and Strategies