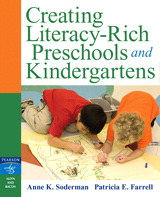 Description
Reviewers Rave About This Book!
"I would purchase this book for all of my intervention team and it would serve as a professional text for team meetings and discussions throughout the school year. It has the potential to support what is going on at the upper grade levels in the area of literacy instruction."
-Felicia Hobbs, Gibbs Magnet School, Arkansas
"The uniquely positive features of this text are its relevancy to preschool and kindergarten classrooms across the country and the ease and style in which it is written."
-Patricia H. Kostell, Educational Consultant, South Carolina
Filled with research-based ideas for creating a supportive climate for young children while engaging them in meaningful and useful instruction, this well illustrated and user-friendly book is just what teachers need to build strong foundations in early literacy.
Take a Peek into the Book:
Presents specific ideas to support English Language Learners.

Features a full discussion on learning climates and environments
Provides information on creating an atmosphere of trust and support and an organized environment so
often missing from other literacy books that focus exclusively on language and literacy. (Chapter 2)
Highlights actual teaching strategies and activities that can be implemented in terms of oral language and early reading and writing development. (Chapter 3)

Focuses on how to involve families as partners in the literacy development of children. (Chapter 4)

Includes useful and authentic assessment strategies paired with easy-to-use and camera-ready tools to evaluate growth and development. (Chapter 5)
Table of Contents
Chapter 1 - INTRODUCTION
Chapter 2 - LEARNING CLIMATES AND ENVIRONMENTS
THAT SUPPORT BEST PRACTICES IN EMERGING LITERACY
Chapter 3 - EMERGING LITERACY COMPONENTS AND TEACHING STRATEGIES
Chapter 4 - THE CHILD'S WORLD OUTSIDE OF THE CLASSROOM:
INVOLVING FAMILIES AS PARTNERS IN THE LITERACY PROCESS
Chapter 5 - USEFUL AND AUTHENTIC ASSESSMENT STRATEGIES
Additional Course Materials