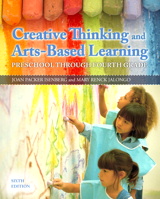 Description
Note: The Enhanced eText features are only available in the Pearson eText format. They are not available in third-party eTexts or downloads, such as CourseSmart.
Written for courses in Creative Arts and Expression, Curriculum, and Play in Early Childhood Education.
This versatile resource shows future and current early childhood educators how to integrate children's creativity, play, and the arts into their curriculum in a way that fosters learning and growth, meets accountability measures, emphasizes the use of technology to enhance creativity and the arts, and suggests ways to differentiate instruction and make adaptations for diverse learners across the art forms.
Creative Thinking and Arts-Based Learning: Preschool Through Fourth Grade distills essential research-based methods that guide classroom teachers in promoting creativity, play, art, music, dance, and drama for all children. It supports the teacher's role by addressing the classroom environment, materials and resources, behavior management, assessment, and culturally responsive teaching. This comprehensive text examines creative thought and play as foundational to arts-based learning, provides a strong research base, highlights how the arts and creative thought meet national standards through classroom activities and experiences, and includes practical features such as answers to frequently asked questions, technology applications, and suggestions for teaching the arts to diverse learners.
Table of Contents
Part I Foundations of Creative Thought
Chapter 1: Understanding Children's Creative Thought and Expression
Chapter 2: Supporting Children's Play, Games, and Inventions
Part II The Creative Arts
Chapter 3: Promoting Children's Art
Chapter 4: Engaging Children in Music, Movement, and Dance
Chapter 5: Inviting Children's Participation in the Dramatic Arts
Part III Creative Teaching and Assessment
Chapter 6: Teachers' Roles in Fostering Creative Thought and Expression
Chapter 7: Assessing the Creative Processes and Products of Children
Chapter 8: Children's Creative Work in Diverse Families and Communities
Part IV Environments That Support Creativity and Arts-Based Learning
Chapter 9: Designing Environments That Support Creativity and the Arts
Chapter 10: Using Creative Materials and Resources Effectively
Appendix A Cross-Referenced Standards Guide
Appendix B Noncompetitive Games for Children
Appendix C Resources for Creative Materials