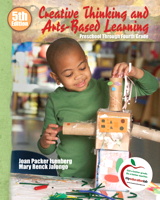 Description
"Why should educators be concerned about creative thought and artistic expression at a time when tough talk about academic standards, teacher accountability, and international ranking on tests dominates the educational scene?"
Creative Thinking and Arts Based Learning, Fifth Edition, argues that the ability to think in innovative and productive ways is a survival skill in a world where we are inundated daily with information. The authors' vision for this book is that it will equip practitioners in the fields of early childhood and elementary education to influence schools and communities to regard the creative processes and artistic products of children's minds with a new appreciation and respect.
In order to achieve this goal, the authors have grounded their content with the very latest theory and research on creative thought and play. They have provided case studies in every chapter where real teachers describe how they have integrated play and the arts into their curriculum. They have included opportunities for self-reflection in their Teachers Reflection feature and their Your Reflections feature. They have offered a collection of self-expressive activities and suggestions for teachers to use that are grounded in child-centered practice. Yet, while encouraging the incorporation of play and the arts, they have also acknowledged the importance of meeting the benchmark standards at the local, state, and national levels through the Meeting the Standards feature in every chapter and the Chapter by Chapter Cross Referenced Appendix of National Standards.
New To This Edition:
NEW! Provides research, tips, and specific suggestions for diverse learners--In the section on Curriculum Accommodations for Diverse Learners (Chapters 1, 2, 4, 5, 6, 7, and 8).
NEW! Shows how to integrate play and each of the art forms across the curriculum in the easy to read charts throughout the book–Charts are done by content area.
NEW! Connects the text to MyEducationLab–Features video clips and artifacts that illustrate the key points.
NEW! Includes a Chapter-by-Chapter Cross-Referenced Appendix of National Standards–Shows how and where the content of each chapter meets national standards in the arts, the content areas, and in early childhood teacher education.
Table of Contents
Part 1 Foundations of Creative Thought

Chapter 1 Understanding Children's Creative Thought and Expression

Chapter 2 Supporting Children's Play, Games, and Inventions

Chapter 3 Fostering Creative Thought and Expression

Part 2 The Creative Arts

Chapter 4 Promoting Children's Art

Chapter 5 Engaging Children in Music, Movement, and Dance

Chapter 6 Inviting Children's Participation in the Dramatic Arts

Part 3 Creative Teaching and Assessment

Chapter 7 Designing Environments to Support Creativity and the Arts
Chapter 8 Using Creative Materials and Resources Effectively

Chapter 9 Assessing the Creative Processes and Products of Children

Chapter 10 Children's Creative Work in Diverse Families and Communities
Appendix A Cross-Referenced Standards Guide

Appendix B Published Rating Scales to Evaluate Preschool Settings

Appendix C Noncompetitive Games for Children

Appendix D Case Study: Dittos and Elegant Costumes

Appendix E: Resources for Creative Materials