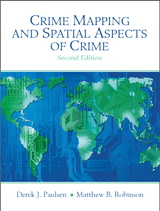 Description
This first-of-its-kind text provides comprehensive coverage of the theoretical and practical aspects of crime mapping as well as hands-on instruction in the practical use of GIS for the spatial analyses of crime data.
The last five years have seen a dramatic increase in law enforcement agencies that are using GIS and crime mapping, and the federal government has boosted support to law enforcement agencies conducting crime mapping. The demand for crime mapping education and training continues to grow, but a void has existed in textbook materials to support these training efforts—until now.
Crime Mapping and Spatial Aspects of Crime, 2/e is the first text specifically designed to teach the theoretical and practical aspects of mapping for criminal justice purposes. First, the text provides a solid understanding of the theoretical and empirical realities of the spatial aspects of crime. Second, the text provides students with the practical tools necessary to conduct effective crime mapping and spatial analyses of crime. This text covers the most current, state-of-the-art uses for GIS in the criminal justice system, theoretical aspects of the geography of crime and practical instruction, and exercises on how to use GIS to conduct crime mapping and spatial analysis of crime.
Table of Contents
I. INTRODUCTION TO SPATIAL ASPECTS OF CRIME: THEORY AND PRACTICE.
1. Spatial Aspects of Crime: Theory.
2. Crime and Place.
3. Social Disorganization.
4. Ecological Theories of Crime.
5. Behavioral Geography and Criminal Behavior.
6. Epidemics, Diffusion, and Displacement of Crime.
II. SPATIAL ASPECTS OF CRIME: PRACTICE.
7. Mapping in the Criminal Justice System.
8. Major Issues in the Practice of Crime Mapping.
III. SPATIAL ANALYSIS OF CRIME: CRIME MAPPING WORKBOOK.
Introduction to Workbook.
1. Getting Started with Arcview 3.3.
2. Understanding Data Issues.
3. Entering Data.
4. Querying and Merging Data.
5. Understanding Layouts and Map Design.
6. Proximity Analysis.
7. Spatial Distribution Analysis.
8. Distance Analysis.
9. Hot Spot Analysis.
10. Density Mapping.
11. Spatial Dispersion Mapping.
Purchase Info ?
With CourseSmart eTextbooks and eResources, you save up to 60% off the price of new print textbooks, and can switch between studying online or offline to suit your needs.
Once you have purchased your eTextbooks and added them to your CourseSmart bookshelf, you can access them anytime, anywhere.
Buy Access
Crime Mapping and Spatial Aspects of Crime, CourseSmart eTextbook, 2nd Edition
Format: Safari Book
$63.99 | ISBN-13: 978-0-13-504711-8