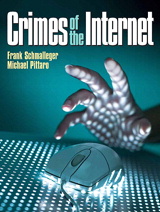 Description
For courses in cybercrime or special topics in Criminal Justice.
This book contains 31 original scholarly articles on all aspects of cybercrime–from emerging global crimes of the Internet, to criminological perspectives on cybercrime to investigating and prosecuting cybercrimes. Offering a collection of previously unpublished works, this book examines emerging global crimes, challenges faced by law enforcement, and the underlying reasons for the rise in such activities. Through a variety of essays, it explores the role of the cybercriminal, the victim, and the cybercriminal's impact on the criminal justice system.
Table of Contents
Part I — Online Predatory Child Victimization & Exploitation
Sexual Addiction to the Internet: From Curiosity to Compulsion (Pittaro)
Pedophilia, Pornography, and Stalking: Analyzing Child Victimization in the Internet (Jaishankar / Halder / Ramdoss)
Internet Child Sexual Exploitation: Offenses, Offenders, and Victims (Huang)
Cyberbullying: A Transnational Perspective (Jaishankar & Shariff)
Internet Crimes: Youth and Children (Raghavan / Ranjan / Veddy)
Part II — Emerging Global Crimes of the Internet
6. Online Pharmaceutical Sales and Challenges for Law Enforcement (Finley)
7. Charges Without Borders: Consumer Credit Card Fraud in Ghana (Davison)
8. Regulating Cyberstalking (Basu / Jones)
9. Internet Gambling (Geiss / Brown / Pontell)
10. Nature and Distribution of Phishing (Stroik / Huang)
11. You can't cheat an Honest Man: Making ($$$s and) Sense of the Nigerian Email Scams (Thomas / King)
12. Identity Theft Causes, Correlates, and Factors: A Content Analysis (Berg)
13. Internet Fraud and Cybercrime (Levin / Cukier)
Part III — Criminological Perspectives on Cybercrime
14. Space Transition Theory (Jaishankar)
15. Routine Activities Theory and Internet Crime (Cox et al)
16. The Rhetoric of Hackers' Neutralizations (Turgeman-Goldschmidt)
17. Lone Hacks or Group Cracks: Examining the Social Organization of Computer Hackers (Holt)
18. It's like Printing Money: Piracy on the Internet (Nhan)
19. The Warez Scene: Digital Piracy in the Online World (Ponte)
20. The Internet and Crime Trends (Ouimet)
21. Internet Gambling: Birth of a Victimless Crime (Giacopassi / Pitts)
Part IV — Investigating and Prosecuting Cybercrimes
22. Investigating Computer Crime (Hinduja)
23. Criminal Profiling and Cybercriminal Investigation (Shoemaker / Kennedy)
24. Digital Evidence (Scarborough et al)
25. The Dateline Effect: Internet Stings (Rubenser et al)
26. Evidence Issues Involved in Prosecuting Internet Crime (Roberson)
27. The Politics of Internet Crime (Marion)
28. The Fourth Amendment Impact on Electronic Evidence (Obinyan et al)
Part V — Cyber Terrorism: The "New" Face of Terrorism
29. The Dark Side of the Web: Terrorists Use of the Internet (Damphousse)
30. Cyberterrorism: Problems, Perspectives, and Prescription (Madhava Soma Sundaram /Jaishankar)
31. Cyberterrorism and the Law (Walker)
Purchase Info ?
With CourseSmart eTextbooks and eResources, you save up to 60% off the price of new print textbooks, and can switch between studying online or offline to suit your needs.
Once you have purchased your eTextbooks and added them to your CourseSmart bookshelf, you can access them anytime, anywhere.
Buy Access
Crimes of the Internet, CourseSmart eTextbook
Format: Safari Book
$46.99 | ISBN-13: 978-0-13-208250-1