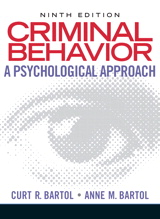 Description
For courses in Criminal Behavior, Criminology, Forensic Psychology, Crime and Delinquency and the Psychology of Crime.
This text approaches the understanding of delinquent and criminal behavior from a psychological perspective–with particular focus on the developmental, cognitive-behavioral aspects of offending. Viewing the juvenile and adult offender as being embedded and continually influenced by multiple systems, it highlights how psychological, social, economic, political and ecological factors all play a role in influencing individual behavior. Streamlined in this edition, it offers a separate chapter on delinquency, updated examples and more on the link between psychology and specific crimes.
Table of Contents
1. Introduction to Criminal Behavior
2. Origins of Criminal Behavior: Developmental Risk Factors
3. Origins of Criminal Behavior: Biological Factors
4. Origins of Criminal Behavior: Learning and Situational Factors
5. Human Aggression and Violence
6. Juvenile Delinquency
7. Criminal Psychopathy
8. Crime and Mental Disorders
9. Homicide, Assault, and Family Violence
10. Multiple Murder, School, and Workplace Violence
11. Psychology of Terrorism
12. Sexual Assault
13. Sexual Assault of Children and Youth and Other Sexual Offenses
14. Property and Public Order Crime
15. Violent Economic Crime and Crimes of Intimidation
16. Substance Abuse, Alcohol, and Crime
Purchase Info ?
With CourseSmart eTextbooks and eResources, you save up to 60% off the price of new print textbooks, and can switch between studying online or offline to suit your needs.
Once you have purchased your eTextbooks and added them to your CourseSmart bookshelf, you can access them anytime, anywhere.
Buy Access
Criminal Behavior: A Psychological Approach, CourseSmart eTextbook, 9th Edition
Format: Safari Book
$54.99 | ISBN-13: 978-0-13-509990-2