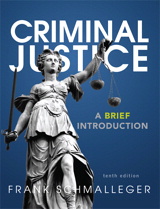 Description
The authoritative text in criminal justice.
The first and best-selling brief introduction to criminal justice text, Criminal Justice: A Brief Introduction, 10e offers instructors and students a trusted, authoritative, and impeccably researched introduction to police, courts, and corrections. Designed with a new visual approach, this edition integrates graphic art with the important concepts and ideas of criminal justice. Its unifying theme, unmatched timeliness, and coverage of trends and technology makes this text the standard by which all other brief texts are judged. An interactive website along with author tweets (@schmalleger) extends chapter material and provides up-to-the minute information on this ever-evolving field.
Table of Contents
PART I: CRIME IN AMERICA
1. What is Criminal Justice?
2. The Crime Picture
3. Criminal Law
PART II: POLICING
4. Policing: Purpose and Organizations
5. Policing: Legal Aspects
6. Policing: Issues and Challenges
PART III: ADJUDICATION
7. The Courts
8. The Courtroom Work Group and the Criminal Trial
9. Sentencing
PART IV: CORRECTIONS
10. Probation, Parole, and Community Corrections
11. Prisons and Jails
12. Prison Life
PART V: THE JUVENILE JUSTICE SYSTEM
13. Juvenile Justice
This title is also sold in the various packages listed below. Before purchasing one of these packages, speak with your professor about which one will help you be successful in your course.
Package ISBN-13: 9781269911870
Includes this title packaged with:
MyLab Criminal Justice New Design for CRIJ 2361 Criminal Justice: A Brief Introduction for Sam Houston State University -- ValuePack Access Card
Frank Schmalleger
$174.00 | Add to Cart