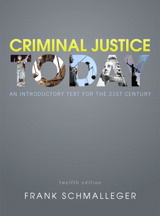 Description
Criminal Justice Today, 12/e, continues to lead as the gold-standard for criminal justice texts. Best-selling, student- and instructor-preferred, and time-tested—Schmalleger is the most current and popular text in the market. The text guides criminal justice students in the struggle to find a satisfying balance between freedom and security, and focuses on the crime picture in America and on the three traditional elements of the criminal justice system: police, courts, and corrections.
Table of Contents
Part 1 CRIME IN AMERICA
Chapter 1 What Is Criminal Justice?
Chapter 2 The Crime Picture
Chapter 3 The Search for Causes
Chapter 4 Criminal Law
Part 2 POLICING
Chapter 5 Policing: History and Structure
Chapter 6 Policing: Purpose and Organization
Chapter 7 Policing: Legal Aspects
Chapter 8 Policing: Issues and Challenges
Part 3 ADJUDICATION
Chapter 9 The Courts: Structure and Participants
Chapter 10 Pretrial Activities and the Criminal Trial
Chapter 11 Sentencing
Part 4 CORRECTIONS
Chapter 12 Probation, Parole, and Community Corrections
Chapter 13 Prisons and Jails
Chapter 14 Prison Life
Part 5 SPECIAL ISSUES
Chapter 15 Juvenile Justice
Chapter 16 Drugs and Crime
Chapter 17 Terrorism and Multinational Criminal Justice
Chapter 18 The Future of Criminal Justice
This title is also sold in the various packages listed below. Before purchasing one of these packages, speak with your professor about which one will help you be successful in your course.
Package ISBN-13: 9780133019377
Includes this title packaged with:
NEW MyCJLab without Pearson eText -- Access Card
. . Pearson Education
$206.13 | Add to Cart
Purchase Info
ISBN-10: 0-13-273981-X
ISBN-13: 978-0-13-273981-8
Format: Alternate Binding
Digital Choices ?
MyLab & Mastering with Pearson eText is a complete digital substitute for a print value pack at a lower price.
MyLab & Mastering ?
MyLab & Mastering products deliver customizable content and highly personalized study paths, responsive learning tools, and real-time evaluation and diagnostics. MyLab & Mastering products help move students toward the moment that matters most—the moment of true understanding and learning.
+ Other Options
eTextbook ?
With CourseSmart eTextbooks and eResources, you save up to 60% off the price of new print textbooks, and can switch between studying online or offline to suit your needs.
Once you have purchased your eTextbooks and added them to your CourseSmart bookshelf, you can access them anytime, anywhere.
Print Choices
Loose Leaf Version ?
Books a la Carte are less-expensive, loose-leaf versions of the same textbook.