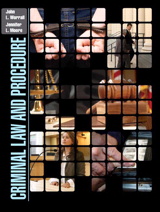 Description
For combined Criminal Law/Criminal Procedure courses, or courses in Criminal Law or Criminal Procedure.
Truly contemporary coverage in an innovative modular format.
Criminal Law and Criminal Procedure: A Combined Approach, 1/e, is a fresh, contemporary approach to criminal law and criminal procedure. The text offers an effective balance of these two subjects in a concise presentation that engages students with current issues and relatable content. Chapters are organized into self-contained modules that facilitate learning and allow instructors to customize their usage of the text. Coverage includes mainstream forms of criminal activity and procedure as well as the most recent hot-button issues such as cyberterrorism.
Table of Contents
Part I: Criminal Law and Criminal Procedure
Chapter 1 Legal Foundations
Part II: Criminal Law
Chapter 2 Limitations on the Criminal Law
Chapter 3 The Elements of Criminal Liability
Chapter 4 Complicity and Vicarious Liability
Chapter 5 Inchoate Crimes
Chapter 6 Crimes Against Persons
Chapter 7 Crimes Against Property
Chapter 8 Crimes Against the State and Public Order
Chapter 9 Criminal Defenses
Part III: Criminal Procedure
Chapter 10 Introduction to Criminal Procedure
Chapter 11 Search and Seizure
Chapter 12 Interrogation and Identification Procedures
Chapter 13 Pretrial Procedure
Chapter 14 Charging and Pleading
Chapter 15 Trial and Beyond
Appendix A: U.S. Constitution and Amendments
Appendix B: Briefing Cases
Purchase Info ?
With CourseSmart eTextbooks and eResources, you save up to 60% off the price of new print textbooks, and can switch between studying online or offline to suit your needs.
Once you have purchased your eTextbooks and added them to your CourseSmart bookshelf, you can access them anytime, anywhere.
Buy Access
Criminal Law and Procedure, CourseSmart eTextbook
Format: Safari Book
$76.99 | ISBN-13: 978-0-13-237625-9