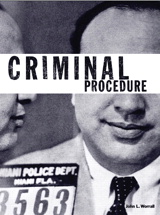 Description
This exciting new addition to Pearson's Justice Series is a comprehensive introduction to criminal procedure, from the point individuals first come into contact with the police, all the way through to the appeal process. Ideal for undergrads, CRIMINAL PROCEDURE: A BRIEF INTRODUCTION presupposes no legal expertise, connects criminal procedure cases to the real world through innovative pedagogy, and encourages students to think critically. All this is accomplished in a brief book with an engaging design that motivates students to keep reading.
Table of Contents
PART 1: FOUNDATIONS
Chapter 1: Introduction to Criminal Procedure
Chapter 2: The Exclusionary Rule and Other Remedies
PART 2: SEARCH AND SEIZURE
Chapter 3: Introduction to the Fourth Amendment
Chapter 4: Searches and Arrests with Warrants
Chapter 5: Searches and Arrests without Warrants
Chapter 6: Stop and Frisk
Chapter 7: Special Needs and Regulatory Searches
PART 3: INTERROGATIONS, CONFESSIONS, AND IDENTIFICATION PROCEDURES
Chapter 8: Interrogation and Confessions
Chapter 9: Identifications
PART 4: FORMAL PROCEEDINGS
Chapter 10: The Pretrial Process
Chapter 11: Prosecutors, Grand Juries, and Defense Attorneys
Chapter 12: Plea Bargaining and Guilty Pleas
Chapter 13: Trial and Beyond
Purchase Info
ISBN-10: 0-13-281781-0
ISBN-13: 978-0-13-281781-3
Format: Book
This publication is not currently for sale.