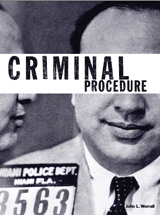 Description
For courses in Criminal Procedure and Legal/Constitutional Issues in Policing/Criminal Justice.
This exciting new addition to Pearson's Justice Series is a comprehensive introduction to criminal procedure, from the point individuals first come into contact with the police, all the way through to the appeal process. Ideal for undergrads, the book presupposes no legal expertise, connects criminal procedure cases to the real world through innovative pedagogy, and encourages students to think critically. All this is accomplished in a brief book with an engaging design that motivates students to keep reading.
Table of Contents
PART 1: FOUNDATIONS
Chapter 1: Introduction to Criminal Procedure
Chapter 2: The Exclusionary Rule and Other Remedies
PART 2: SEARCH AND SEIZURE
Chapter 3: Introduction to the Fourth Amendment
Chapter 4: Searches and Arrests with Warrants
Chapter 5: Searches and Arrests without Warrants
Chapter 6: Stop and Frisk
Chapter 7: Special Needs and Regulatory Searches
PART 3: INTERROGATIONS, CONFESSIONS, AND IDENTIFICATION PROCEDURES
Chapter 8: Interrogation and Confessions
Chapter 9: Identifications
PART 4: FORMAL PROCEEDINGS
Chapter 10: The Pretrial Process
Chapter 11: Prosecutors, Grand Juries, and Defense Attorneys
Chapter 12: Plea Bargaining and Guilty Pleas
Chapter 13: Trial and Beyond
Purchase Info ?
With CourseSmart eTextbooks and eResources, you save up to 60% off the price of new print textbooks, and can switch between studying online or offline to suit your needs.
Once you have purchased your eTextbooks and added them to your CourseSmart bookshelf, you can access them anytime, anywhere.
Buy Access
Criminal Procedure: A Brief Introduction, CourseSmart eTextbook
Format: Safari Book
$46.99 | ISBN-13: 978-0-13-281687-8