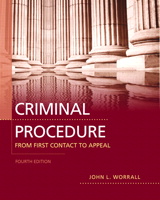 Description
Approriate for courses in Criminal Procedure.
Criminal Procedure: From First Contact to Appeal presents an introduction to criminal procedure, from the point at which an individual first comes into contact with the police all the way through the appeals process. Approximately half of the book is devoted to traditional criminal procedure topics–notably, search-and-seizure as well as interrogation and identification procedures. The remainder of the book moves beyond these topics and discusses the pretrial process; the roles of defense attorneys, prosecutors, and grand juries; plea bargaining and guilty pleas; rights of criminal defendants at trial; and appeals and habeas corpus.
Readers who are pursuing careers in criminal justice and individuals who are already employed in criminal justice will find this book especially useful. Moreover, because the book constitutes more than a general overview of criminal procedure, it should prove beneficial to aspiring law students. But, it should not be over the heads of students with little or no background in criminal justice.
Table of Contents
Part 1 Introduction
Chapter 1 Introduction to Criminal Procedure
Chapter 2 Remedies
Part 2 Search and Seizure
Chapter
3 Introduction to Search and Seizure
Chapter 4 Searches and Arrests with Warrants
Chapter 5 Searches and Arrests without Warrants
Chapter 6 Actions Based on Reasonable Suspicion
Chapter 7 Actions Based on Administrative Justification and Consent
Part 3 Interrogations, Confessions, and Identification Procedures
Chapter
8 Interrogations and Confessions
Chapter 9 Identification Procedures and the Role of Witnesses
Part 4 The Beginnings of Formal Proceedings
Chapter 10 The Pretrial Process
Chapter 11 Prosecutors, Grand Juries, and Defense Attorneys
Chapter 12 Plea Bargaining and Guilty Pleas
Part 5 Trial, Conviction, and Beyond
Chapter
13
Rights at Trial
Chapter 14 More Rights at Trial
Chapter 15 Sentencing, Appeals, and Habeas Corpus
Glossary
Photo Credits
Case Index
Subject Index