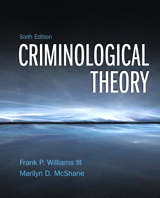 Description
For courses in Criminology, Criminological Theory, Theories of Crime, Crime in America.
The authoritative resource for criminological theory.
Criminological Theory, 6/e provides concise chronological coverage of all the major criminological theories. The text puts theories into socio-historical context to illustrate how and why certain theories evolved, why they were popular at particular points in time, and how they are still active and influential today. The authors also examine the research and policies that were inspired by each theory. Specifically designed to suit one-semester courses, students and instructors alike will appreciate the text's straight-forward approach, clear language, and comprehensive coverage.
Table of Contents
Chapter 1 Introduction
SECTION I: THE ROOTS OF CRIMINOLOGY
Chapter 2 The Classical School
Chapter 3 The Positive School
SECTION II: THE FOUNDATIONS OF AMERICAN CRIMINOLOGY
Chapter 4 The Chicago School
Chapter 5 Differential Association Theory
Chapter 6 Anomie Theory
SECTION III: BUILDING ON THE FOUNDATION
Chapter 7 Subculture Theories
Chapter 8 Labeling Theory
SECTION IV: MODERN CRIMINOLOGY
Chapter 9 Conflict Theory
Chapter 10 Gender-based Theories
Chapter 11 Social Control Theory
Chapter 12 Social Learning Theory
Chapter 13 Rational Theories
SECTION V: CONTEMPORARY PERSPECTIVES
Chapter 14 Contemporary Theories of Process
Chapter 15 Contemporary Integrative and Critical Theories
Purchase Info ?
With CourseSmart eTextbooks and eResources, you save up to 60% off the price of new print textbooks, and can switch between studying online or offline to suit your needs.
Once you have purchased your eTextbooks and added them to your CourseSmart bookshelf, you can access them anytime, anywhere.
Buy Access
Criminological Theory, CourseSmart eTextbook, 6th Edition
Format: Safari Book
$32.99 | ISBN-13: 978-0-13-298716-5