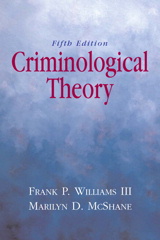 Description
For courses in Criminology.
Taking a sociological perspective, this book discusses the major theories of crime–from classical theories to new theories such as Cultural Criminology and Peacemaking Criminology. The book offers a balanced presentation–presenting each theory's social and intellectual heritage, perspective and assumptions and major concepts. This edition includes updates on current crime theories, critical thinking questions at the end of each chapter and additional examples that connect crime theories to real life.
Table of Contents
1. Introduction
2. The Classical School
3. The Positive School
4. The Chicago School
5. Differential Association Theory
6. Anomie Theory
7. Subculture Theories
8. Labeling Theory
9. Conflict Theory
10. Social Control Theory
11. Social Learning Theory
12. Rational Theories
13. Gender-Based Theories
14. Contemporary Theories I–Updating Older Perspectives
15. Contemporary Theories II–Diversity in Theory
16. The Future of Criminological Theory
Purchase Info ?
With CourseSmart eTextbooks and eResources, you save up to 60% off the price of new print textbooks, and can switch between studying online or offline to suit your needs.
Once you have purchased your eTextbooks and added them to your CourseSmart bookshelf, you can access them anytime, anywhere.
Buy Access
Criminological Theory, CourseSmart eTextbook, 5th Edition
Format: Safari Book
$30.40 | ISBN-13: 978-0-13-505765-0