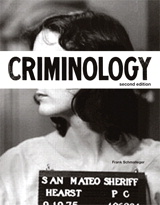 Description
Powerfully illustrated, compelling content.
Criminology is a user friendly criminology text that teaches students about the exciting field of criminology using the learning skills they already possess. In recognition of the visual orientation of today's learners, we sought to achieve a comprehensive integration of graphic art with the concepts and ideas of criminology. Consequently, Criminology is intensely visual. Its layout and design invite readers to explore its pages, which powerfully illustrate the critical concepts that are central to the field of criminology today. Our intent is to visually attract readers to the subject matter of criminology, making for ease of learning.
Table of Contents
PART I Criminology Explained – The Evil Men (and Women) Do
Chapter 1 What Is Criminology? Understanding Crime and Criminals
PART II Crime Causation -- What We Do and Why We Do It
Chapter 2 Classical & Neoclassical Criminology: Choice and Consequences
Chapter 3 Biological Roots of Criminal Behavior: It's What We Are
Chapter 4 Psychological & Psychiatric Foundations of Criminal Behavior
Chapter 5 Social Structure: It's How We Live
Chapter 6 Social Process and Social Development: It's What We Learn
Chapter 7 Social Conflict: It's How We Relate
Part III The Crime Picture: It's Not Pretty
Chapter 8 Crimes Against Persons: What We Fear
Chapter 9 Crimes against Property: What We Lose
Chapter 10 White-Collar and Organized Crime: Crime as a Job
Chapter 11 Public Order Crime: Recreational Crime
Part IV Crime In the Modern World: Today's Headlines
Chapter 12 Technology and Crime: It's a Double-Edged Sword
Chapter 13 Globalization and Terrorism: Our Small World
Purchase Info
ISBN-10: 0-13-296675-1
ISBN-13: 978-0-13-296675-7
Format: Alternate Binding
This publication is not currently for sale.