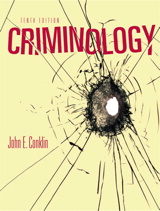 Description
For courses in Criminology.
Unique in its approach, this book introduces students to criminology by examining broad-based concepts instead of just types of crimes. Using an extensive research base, the author discusses concepts such as social control and neutralization of the law; factors that facilitate crime; criminal careers; and the organization of criminal behavior. Real-life examples and special feature boxes appear throughout and address crime and the media, crime on campus, cross-cultural perspectives and critical issues. Figures, tables and in-depth review questions are included and help students understand the common social process among all types of crime.
Table of Contents
1. The Study of Crime
2. Measuring Crime
3. Crime and Its Costs
4. Dimensions of Crime
5. Biological and Psychological Explanations of Crime
6. Social, Cultural, and Economic Sources of Crime
7. Social Control and Commitment to the Law
8. Learning to Commit Crime
9. Opportunities and Facilitating Factors
10. Criminal Careers
11. The Organization of Criminal Behavior
12. Community Reactions to Crime
13. The Criminal Justice System
14. Deterrence, Incapacitation, Retribution, and Rehabilitation
15. Solving the Crime Problem
Purchase Info ?
With CourseSmart eTextbooks and eResources, you save up to 60% off the price of new print textbooks, and can switch between studying online or offline to suit your needs.
Once you have purchased your eTextbooks and added them to your CourseSmart bookshelf, you can access them anytime, anywhere.
Buy Access
Criminology, CourseSmart eTextbook, 10th Edition
Format: Safari Book
$61.00 | ISBN-13: 978-0-13-504493-3