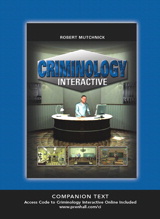 Description
Built to make the Intro to Criminology course more fun and much easier on students, this online media explores crime theories & crime types in a fully interactive 3-D environment! This interactive media will feel almost game-like to a student as they better learn the theories & types of crimes. This media is accompanied by a small companion text for the Criminology course. The media + the small companion text make up your entire Criminology course.
Additional Course Materials
Purchase Info
ISBN-10: 0-13-505723-X
ISBN-13: 978-0-13-505723-0
Format: Book
This title is currently unavailable on myPearsonStore.
Digital Choices ?
MyLab & Mastering with Pearson eText is a complete digital substitute for a print value pack at a lower price.
MyLab & Mastering ?
MyLab & Mastering products deliver customizable content and highly personalized study paths, responsive learning tools, and real-time evaluation and diagnostics. MyLab & Mastering products help move students toward the moment that matters most—the moment of true understanding and learning.