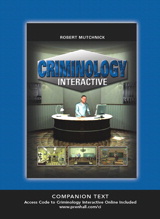 Description
Built to make the Intro to Criminology course more fun and much easier on students, this online media explores crime theories & crime types in a fully interactive 3-D environment! This interactive media will feel almost game-like to a student as they better learn the theories & types of crimes. This media is accompanied by a small companion text for the Criminology course. The media + the small companion text make up your entire Criminology course.
Additional Course Materials
This title is also sold in the various packages listed below. Before purchasing one of these packages, speak with your professor about which one will help you be successful in your course.
Package ISBN-13: 9780132606110
Includes this title packaged with:
Criminological Theory: A Brief Introduction, 3rd Edition
J. Mitchell Miller, Christopher J. Schreck, Richard Tewksbury
$142.47 | Add to Cart
Purchase Info
Digital Choices
MyLab & Mastering ?
MyLab & Mastering products deliver customizable content and highly personalized study paths, responsive learning tools, and real-time evaluation and diagnostics. MyLab & Mastering products help move students toward the moment that matters most—the moment of true understanding and learning.