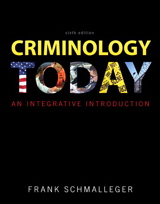 Description
Criminology Today: An Integrative Introduction 6e is a clear, contemporary and comprehensive introduction to the study of criminology. Offering a thematic approach that contrasts the social responsibility and social problems approaches to crime theory, the book encourages students to think critically about the causes of crime. Completely up-to-date, this edition includes new Professor Speaks excepts, links to cutting-edge articles, and MyCrimeKit activities that encourage students explore how security and freedom interface in an age of increasing globalism.
Table of Contents
PART ONE: THE CRIME PICTURE
1. What is Criminology?
2. Where Do Theories Come From?
PART TWO: CRIME CAUSATION
3. Classical and Neoclassical Thought
4. Biological Roots of Criminal Behavior
5. Psychological and Psychiatric Foundations of Criminal Behavior
6. Social Structure Theories
7. Theories of Social Process and Social Development
8. Social Conflict Theories
PART THREE: CRIME IN THE MODERN WORLD
9. Crimes Against Persons
10. Crimes Against Property
11. White-Collar and Organized Crime
12. Public Order and Drug Crimes
13. Technology and Crime
14. Globalization and Terrorism