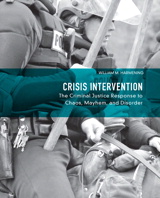 Description
For courses in Introduction to Policing, Crisis Intervention, Introduction to Police Science, and Introduction to Police Psychology.
Crisis intervention from a criminal justice perspective.
Crisis Intervention: The Criminal Justice Response to Chaos, Mayhem, and Disorder introduces readers to the methods and techniques of crisis intervention employed by police and correctional officers. Rather than focusing on abstract theories, this text presents real-life situations first and then explores the theories and methods relevant to those situations. It goes beyond the simple presentation of facts and incorporates best practices of policing and other topics usually found only in police training manuals. The text also examines the psychological effects of crisis on criminal justice professionals and ethical considerations related to crisis response.
Table of Contents
Chapter 1 The Problem of Crisis
Chapter 2 Fight, Flight, or Freeze: The Psychophysiology of Crisis
Chapter 3 Crisis Communication
Chapter 4 Use of Force
Chapter 5 The Tactical Response
Chapter 6 Suicide and the Psychology of Self-Destruction
Chapter 7 The Crisis of Domestic Violence
Chapter 8 The Victims of Crisis
Chapter 9 The Hostage Crisis
Chapter 10 Responding to Mass Panic
Chapter 11 The Cult Mindset and the Doomsday Crisis
Chapter 12 The Crisis of Mental Illness
Chapter 13 The Institutional Crisis
Chapter 14 Crisis in the Courtroom
Chapter 15 The Cost of Crisis: When the Helpers Need Helped