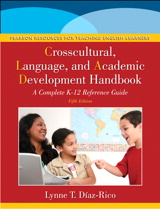 Description
An up-to-date edition of a bestseller, The Crosscultural, Language, and Academic Development Handbook, 5/e guides educators in promoting academic success for the culturally and linguistically diverse learners in today's classrooms. Designed specifically for mainstream classroom teachers, the book shows clearly how second-language acquisition affects learning, and presents an excellent treatment of cultural diversity and learning styles. Included is coverage of new applications for mobile learning; the Common Core Standards; Response to Intervention; English learners with autism; educating undocumented immigrants; involving family and the community to increase academic success; adapting for English learners with special needs; and more.
Table of Contents
Introduction
Acknowledgements

PART ONE Learning: Learning about the Learner, Language Structure, and Second-Language Acquisition
CHAPTER 1 Learning about the Language Learner
CHAPTER 2 Learning about Language Structure
CHAPTER 3 Learning about Second-Language Acquisition

PART TWO Instruction: Oracy and Literacy for English-Language Development, Content-Area Instruction, and Bilingual Education
CHAPTER 4 Oracy and Literacy for English-Language Development
CHAPTER 5 Content-Area Instruction
CHAPTER 6 Theories and Methods of Bilingual Education

PART THREE Assessment
CHAPTER 7 Language and Content-Area Assessment

PART FOUR Culture: Cultural Diversity in the United States, the Intercultural Educator, and Culturally Responsive Schooling
CHAPTER 8 Cultural Diversity
CHAPTER 9 Culturally Responsible Schooling
CHAPTER 10 The Role of the Family in Schools

PART FIVE Policy: Language Policy and Special Populations of English Learners
CHAPTER 11 The Role of Educators in Language Policy
CHAPTER 12 Culturally and Linguistically Diverse Learners and Special Education

References
Author Index
Subject Index

This title is also sold in the various packages listed below. Before purchasing one of these packages, speak with your professor about which one will help you be successful in your course.
Package ISBN-13: 9780134506173
Includes this title packaged with:
Reading, Writing, and Learning in ESL: A Resource Book for Teaching K-12 English Learners, 6th Edition
Suzanne F. Peregoy, Owen F. Boyle
Differentiated Early Literacy for English Language Learners: Practical Strategies
Paul S. Boyd-Batstone
NEW MyEducationLab without Pearson eText -- Valuepack Access Card
. Pearson Education
$290.20 $277.87 | Add to Cart