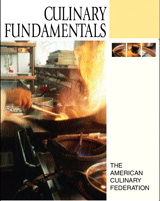 Description
For Introductory Cooking, Cooking Skills or "Food Prep" courses in Culinary Arts, Food and Nutrition and Hospitality Management departments.
A comprehensive, technique-based cooking principles text which uses "benchmark" recipes to form the building blocks necessary for a career in the culinary arts.
Pearson Education is proud to bring world-renowned Dorling Kindersley (DK) products to your classroom. Instantly recognized by their fascinating, full-color photographs and illustrations on every page, DK titles will add meaning to expository text and make learning accessible and, fun. Other DK hallmarks include cross-section views, 3D models, and text to visual call-outs to help readers comprehend and enjoy the wealth of information each book provides. With Pearson, you can see DK in a whole new way! For a complete listing of titles, please visit: http://us.dk.com/pearson
Table of Contents
SECTION 1. INTRODUCTION
Unit 1. Professionalism
SECTION 2. NUTRITION, SAFETY, AND SCIENCE
Unit 2. Nutrition
Unit 3. Sanitation and Safety
Unit 4. Food Science
SECTION 3. CULINARY MATH AND RECIPES
Unit 5. Culinary Math
Unit 6. Recipes
SECTION 4. TOOLS AND EQUIPMENT
Unit 7. Equipment Identification
Unit 8. Knife Skills
SECTION 5. INGREDIENTS
Unit 9. Dairy and Dry Goods
Unit 10. Meat and Poultry
Unit 11. Fish Identification and Fabrication
Unit 12. Fresh Produce Identification and Handling
Unit 13. Basic Mise en Place Techniques
SECTION 6. STOCKS, SOUPS, AND SAUCES
Unit 14. Stocks
Unit 15. Soups
Unit 16. Sauces
SECTION 7. DRY HEAT TECHNIQUES
Unit 17. Sautéing
Unit 18. Frying
Unit 19. Roasting
Unit 20. Barbecuing
Unit 21. Grilling and Broiling
SECTION 8. MOIST HEAT TECHNIQUES
Unit 22. Braising and Stewing
Unit 23. Shallow Poaching and Steaming
Unit 24. Poaching and Simmering
SECTION 9. COMPLETING THE PLATE
Unit 25. Vegetables
Unit 26. Starches
SECTION 10. PANTRY
Unit 27. Breakfast
Unit 28. Salads and Dressings
Unit 29. Sandwiches
SECTION 11. GARDE MANGER
Unit 30. Garde-manger
Unit 31. Hors d'oeuvres and appetizers
SECTION 12. BAKING
Unit 32. Baking
SECTION 13. ADVANCED TOPICS
Unit 33. Flavor Dynamics
Unit 34. Presentation
SECTION 14. CUISINES OF THE WORLD
Unit 35. Europe
Unit 36. Asia
Unit 37. The Americas
Appendices
Glossary with phonetic pronunciations.
Conversion Tables: temperature, weight, volume.
Volume and weight conversions for Selected Foods.
Pan Sizes.
Scoop and ladle sizes.
Can sizes.
Sample HACCP Recipe.
Suggested Reading List.
Magazines, Journals, and Periodicals.
Professional Organizations.
Purchase Info ?
With CourseSmart eTextbooks and eResources, you save up to 60% off the price of new print textbooks, and can switch between studying online or offline to suit your needs.
Once you have purchased your eTextbooks and added them to your CourseSmart bookshelf, you can access them anytime, anywhere.
Buy Access
Culinary Fundamentals, CourseSmart eTextbook
Format: Safari Book
$62.00 | ISBN-13: 978-0-13-296065-6